Wenger's Champions League record under scrutiny ahead of key Olympiakos clash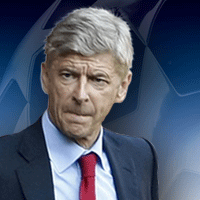 Posted on 28th September 2015
10 seasons ago, Frank Rijkaard's Barcelona won the Champions League at the Stade de France in Paris, beginning a cycle of dominance for the Catalans that would see them reach the last four of Europe's principal continental club competition in every year but two since and lift further titles in 2008 and 2011.
Their opponents in that 2006 final were Arsenal, whose subsequent record in Europe does not make for such positive reading. Indeed, although Arsene Wenger has maintained his excellent achievement of reaching the knockout stage of the Champions League in each campaign since 2003/04, Arsenal have only ever participated in two semi-finals on since the Frenchman took charge of the north Londoners 19 years ago on Wednesday.
There have certainly been mitigating circumstances, with the relocation from Highbury to Emirates Stadium understandably leading to a diversion of resources away from the playing squad. It is unrealistic, too, to expect Arsenal to compete year after year with Barcelona, who are among the continent's superclubs and have the muscle and might to sign almost any player they want. Arsenal were also rather unfortunate in that final in 2006, when they led until the 76th minute despite Jens Lehmann's early sending-off.
In the last few seasons, however, Arsenal have not done themselves any favours in the Champions League.
Last term, they were defeated in the round of 16 by a relatively ordinary Monaco side after a disastrous 3-1 loss at the Emirates in the first leg of the tie.
In 2012/13 and 2013/14, meanwhile, Arsenal finished second in their group and were then knocked out by Bayern Munich over two legs in the knockout round. While the Gunners were somewhat unlucky to be handed tough draws, it was a situation they could have avoided in the group stage.
Wenger's relationship with Champions League is thus paradoxical: arguably his greatest accomplishment in the last decade is consistently finishing in the top four in the Premier League and qualifying for Europe's foremost tournament, yet his lack of success on the continental stage – Wenger has never won a European trophy – is what prevents him from joining the list of the very best managers of all-time.
For all of his undoubted qualities, doubts remain about whether Wenger has the ability or willingness to adapt his tactics according to the opposition or to make in-game changes that can turn a match on its head. Arsenal's poor big-game record in the Premier League in recent years is further evidence that something is lacking when the Gunners take on the very best opponents.
An avoidable 2-1 defeat to Dinamo Zagreb two weeks ago means that Arsenal go into Tuesday's clash with Olympiakos under pressure: with back-to-back games against Bayern to follow, it is feasible that Wenger's side could still be without a win after four matches were they to drop more points about the Greek champions.
The Champions League is becoming harder to win than ever before for clubs outside the elite of Bayern, Barcelona and Real Madrid. It is difficult to see Arsenal overcoming that trio to get their hands on a first ever European Cup this year, with Wenger's lack of continental success looking likely to continue.
About the Author – Greg Lea
Freelance football writer. Work published by FourFourTwo, The Guardian, World Soccer, Goal, The National, Squawka, Eurosport, The Blizzard + others.
Twitter @GregLeaFootball