Thoughts on 2D Matchday Experience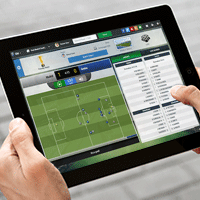 Posted on 05th April 2016
Last December we introduced a new match engine to Soccer Manager Worlds, and we followed this up with a 2D Matchday Experience in March.
The 2D Matchday is currently in Beta and is only available in Gold Championships at this stage. I thought I'd share my experience to date as I'm currently competing in Gold Championship 7 (Game World ID 3065) as Castilla.
In the single player game there has been a 2D Matchday for some time, but in the multiplayer game, we have what you call "old school" commentary. You would have found the same feature in many of the traditional, management games of the past such as Championship Manager, Premier League Manager, Ultimate Soccer Manager and so forth.
The first time I enjoyed a 2D Matchday within a football management game was in 2003 when it was introduced into the Championship Manager series for the first time. It brought with it a whole new experience as I could now see my players carrying out my instructions as dots on a screen. Yes, it was basic, but it did the job, and it still does to date.
Naturally the next step in this evolution is a 3D Matchday Experience, but that'll have to come later.
I suppose the joy of playing a football management game is that, for a moment, you slip into a fantasy world where you become a football manager. You make tough decisions in the transfer market, try and drag your team out of relegation or pull off that win to keep you top of the table and so forth.
Likewise, when you're watching the traditional match commentary you're also using your imagination into how the action is unfolding. I've found that this is made more vivid with the 2D Matchday, which was introduced into Soccer Manager via Game World ID 3065 before any other and I've now experienced many a matchday in 2D.
It has added another dynamic to my Soccer Manager experience. I've found myself more immersed in the game as I'm screaming at tiny dots running around the pitch in front of me and getting odd looks from my wife in the process as my No9 dot skies a clear cut chance over the bar! It's even piqued my daughter's interest, and I now find her watching the game with me.
I'm struggling to recall the last time that I clicked on the View Match button to watch the traditional commentary, as now I just click on the "Play 2D Match Beta" button. It works seamlessly on both the desktop and app. I'll take that as a positive seeing it is still in Beta.
Yes, it does still have one or two quirks which we're currently ironing out, but once we have finished, I see no reason it can't be rolled out game wide for everyone to enjoy. In the meantime, if you want to experience it then head over to a Gold Championship in the multiplayer or check out the short highlights video.
About the author – Steven Gore
Steven is one of the co-founders of Soccer Manager and has been playing SM Worlds since August 2005. He can be found in Gold Championship 7 (Game World ID 3065) managing Castilla if you'd like to join him.