The Leicester City Fairytale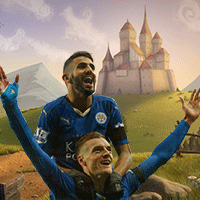 Posted on 15th March 2016
Over the past 20 seasons only four different clubs have won the Premier League – Arsenal, Chelsea, Manchester City and Manchester United. These same names are always mentioned at the start of each season when talking about who's going to win the league.
On the odd occasion we may be treated to a different club mounting a challenge like Liverpool did in 2013/14 or Spurs breaking into the Top 4 in 2009/10 & 2011/12 but bar these blips nothing has really changed over the years.
Thanks to Leicester City, all of this could be about to change.
Roll back 12 months and you'll find that The Foxes are bottom of the Premier League on just 19 points and 7 points away from safety. They went on to win 7 of their remaining 9 games and survived for another season in the Premier League.
In the Summer Nigel Pearson, much to the disappointment of the vast majority of fans, was sacked and replaced by Claudio Ranieri. This didn't seem like an inspired choice and Leicester were the overwhelming favorites to be relegated.
Needless to say that Claudio Ranieri and Leicester City have taken everyone by surprise this season as they currently sit 5 points clear of Spurs with 8 games to go.
They have been labeled as a modern day fairytale.
Ranieri was quoted as saying: ""In an era when money counts for everything, I think we give hope to everybody.".
This is why a lot of neutrals are rooting for them to win the Premier League in an era where the game is all about multi billionaire owners.
You can argue that Leicester don't have any household names. The likes of James Vardy and Riyad Mahrez may have grabbed the headlines (the latter wouldn't look out of place at Bayern or Barcelona) and N'Golo Kanté looks fantastic in midfield (and could very well play at a higher level) but the rest of the squad is made up of journeymen who'd struggle to stake a claim in any of the starting lineups of Europe's elite.
This is why Leicester have captivated the nation and grabbed the footballing world's attention. They are only 720 minutes away from sporting immortality and finishing the final chapter in their fairytale.