Samuel Umtiti – Barcelona's New Defensive Rock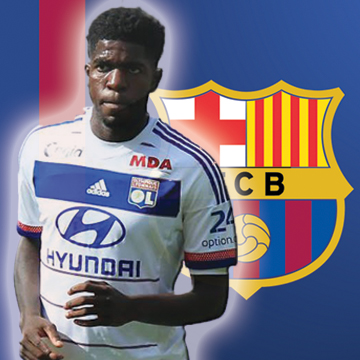 It has been confirmed by both parties: a €25 million fee will see French defender Samuel Umtiti move from Lyon to FC Barcelona this summer.
But what exactly are Barcelona getting for their money?
Well, given their current financial constraints, the Blaugrana are getting just about the best centre-back that €25 million can buy.
It had been a poorly kept secret that Barça were on the lookout for defensive re-enforcements this summer, with constant media links to the likes of Aymeric Laporte, Marquinhos and even Everton's John Stones.
But all of the above names would command fees of at least €50 million – money that, currently, Barcelona just don't have.
It seems crazy to think that one of the world's biggest clubs, with some on the game's most marketable players within their ranks, should be facing such fiscal restrictions.
But Barça's inability to secure a shirt sponsorship deal for next season, coupled with the spiralling cost of their wage bill, means that money is a little tighter than it is in, say, Madrid or Manchester.
So, all things considered, Umtiti represents about as astute a purchase as possible for the Spanish champions.
The 22-year-old Lyon defender was superb in Ligue 1 last season as the bedrock of l'OL's recovery from an early season blip to finish second in the table, and secure Champions League qualification.
Across a total of 30 league games last season, the young Frenchman averaged an impressive WhoScored.com rating of 7.27, scoring once and maintaining a passing accuracy of 87.2%. That pass completion stat will be one of the key factors behind Barça's interest as, if Umtiti is to succeed as a defender at the Camp Nou, he'll be expected to not only thwart opposition attacks, but carry the ball forward and contribute to offensive manoeuvres.
With his combination of physical strength, athleticism and quality of passing, Umtiti is everything Barcelona look for in a centre-back, as well as everything they are currently missing.
Umtiti's addition will not only bolster manager Luis Enrique's options in central defence, but add a level of flexibility to the squad. Javier Mascherano has been utilised alongside Gerard Pique at the heart of Barça's defence since his arrival from Liverpool in 2010, but with Umtiti in the mix, the combative Argentinian may feature in midfield more regularly, deputising for Sergio Busquets when needed.
Umtiti's pace and ball-carrying skills could also see him fill in at left-back if Jordi Alba is ever unavailable for selection; the addition of one player has expanded Barça's options in three positions.
The last defender to make the switch from Lyon to Barcelona was Eric Abidal in 2007, and parallels between the two French defenders are evident: both men are fast, athletic, left-footed and comfortable in position. Abidal won five La Liga titles and two Champions Leagues in his time in Catalonia, so if Umtiti makes half the impact of his compatriot, he'll be considered an unqualified success.
Although he'd never played for the senior team prior to the tournament, Umtiti was selected as a back-up for Didier Deschamps' Euro 2016 squad. And when injury ruled out Raphaël Varane and Jeremy Mathieu, the Lyon defender got the call to step up and take part in what could be an historic period for Les Bleus, if the pre-tournament favourites manage to lift the Henri Delaunay trophy on home soil.
With Umtiti's continued involvement in the Euros, it is unlikely that his dream move to Barcelona will be rubber stamped before his national team duties are completed. But what better way to make an early impression with your future employers and supporters, than by showing them exactly what you're capable of on the highest stage? Umtiti may be about to get that chance.
About the author – Ryan Baldi
Ryan is a Midlands based freelance sports writer specialising in European football. He has been fascinated with the continental game ever since he was presented with his first football kit at the age of 7 years old whilst on holiday in Spain – a Barcelona shirt with 'Romario 10' printed on the back. A contributor to numerous footballing websites, Ryan has also covered martial arts for local and national print publications. Ryan's musings on European football can be found here. 
twitter: @RyanBaldiEFB