Paul Labile Pogba: The Sky Is (Not) The Limit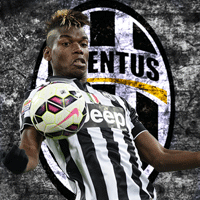 Posted on 27th February 2016
Juventus have always had a top midfield throughout the ages: Pirlo, Nedved, Vidal, Zidane, Roberto Baggio are a few of the names that come to mind. However the list goes on and on. When Pirlo and Vidal left the club, in 2015, the Italian supporters were concerned about who would now be the "fuel" to keep the Vecchia Signora's engine running smoothly.
The tackling characteristics of both Khedira and Marchisio, which made them into more defensive than attacking midfielders, forced Allegri to act fast and with accuracy. And then, right before his eyes, was an attacking playmaker who covered the whole field, gifted with a great technique and an amazing shooting ability – Paul Pogba. The kid who left Manchester United in 2012 quickly became one of the most promising players in the world.
Knowing what we know now, we are able to see how crazy it was for the Red Devils , to sell the youngster back in 2012 for a shocking £3.5 million, particularly with him now being valued at around £70 million. United aren't the only ones guilty of letting a future star slip through their fingers. AC Milan also regret the exit of Pierre-Emerick Aubameyang in 2012, and Arsenal fans surely remember when Ibrahimović was only perceived as good enough for a trial at the club in 2000. Mistakes are very common in football. Nevertheless, Pogba is now happier than ever, and it's a joy to watch him play and develop into one of the world's top midfielders.
Yes, it's true: some of his actions demonstrate that he still has a lot of psychological growing to do, but only time will give him the maturity needed. On the pitch, he is a complete player, combining a mix of technique, shooting, passing, dribbling and speed; Outside of football, he is a kid having fun and enjoying his young age. Let's not blame him, after all you are only young once. In a few years, providing he's able to avoid the "Balotelli path", he will be the top midfielder in the world, joining Zidane and Baggio in the list of the Hall-of-Famers. If he's lucky, the Ballon D'Or will also be within his grasp.
In a total of 33 matches this season, Pogba has 6 goals and  9 assists to his name, and his performances have been a delight to all the football fans. At the tender age of of just 22 years old, he's still very young and has many years ahead of him. Juventus were the first club who welcomed him and treated him like the irreverent top player that he is, and now the question is who's going to be the next one – everyone has acknowledged the mighty interest of both Barcelona and Real Madrid, but Pep Guardiola has been watching closely, protected by the Manchester City's infinite richness. Who will win the race?
About the author – Luis Costa
Luis has a great passion for football and has been playing Soccer Manager for 5 years. He played semi-professional football for 13 years and is currently a regional referee in Madeira's football association.