How Jurgen Klopp Can Rebuild Liverpool in 5 Simple Steps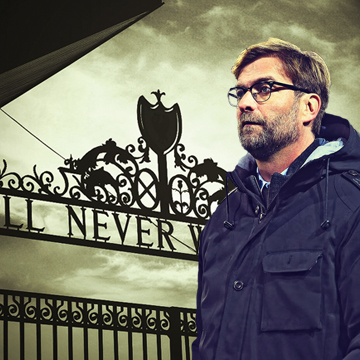 This year's summer transfer window looks set to be yet another transitional period for Liverpool, as the club looks to implement the ways of their new manager Jurgen Klopp. The objective for the next season is clear – return to the Champions League. However, that might prove to be the toughest job Klopp has ever had in his entire managerial career.
What follows are the five simple steps that could potentially return Liverpool to the Champions League.
5) Sell Martin Skrtel and Mamadou Sakho
When Jurgen Klopp took over Liverpool, Martin Skrtel quickly fell down the pecking order due to his inconsistency and troubling injuries, but he may now be gone for good, considering rumors that Besiktas is reportedly ready to offer as much as €9m to acquire his services. With Joel Matip already lined up to join Liverpool, it's hard to see the Reds rejecting this sizeable offer.
Meanwhile, Mamadou Sakho should also be heading for the exit door this summer – and rightly so. Although his initial suspension has recently been lifted, Sakho is yet to stand trial for his reported substance abuse and the outcome is still anyone's guess.
As far as Liverpool goes, the damage is already done and they might as well part ways with the talented center-back. This summer will represent the start of a new era for the Reds and they should be looking to avoid any potential controversy surrounding the team.
4) Sign a center-back
If Klopp decides to sell Skrtel and Sakho, he will be left with a gaping hole in the heart of his defense, which should undoubtedly prompt him to sign a new center-back. The aforementioned Joel Matip is a smart addition to the Liverpool backline, but the Reds will need at least one more defender in order to challenge for the top four.
Unsurprisingly, Neven Subotic has been linked with Liverpool ever since Klopp took over and it is not hard to see why the rumored transfer would suit all parties involved. Dortmund no longer need Subotic in their starting lineup and he will therefore be looking for a summer move. A reunion with Klopp might be the perfect solution for the towering Serbian center-back who was at his best when Klopp was in charge of Dortmund and in return, Liverpool could get a decent center-back in a cut-price deal.
Finally, if there is anyone who can help Subotic regain confidence in his abilities, it is Klopp and Liverpool should be trying to close this deal as soon as possible.
3) Sign a left-back
When Alberto Moreno joined Liverpool in 2014, many were hoping he would solve the left-back problem that has haunted almost every Liverpool side in the last 10 years.
The former Sevilla defender impressed in his early performances, but soon enough the honeymoon period was over and Moreno started struggling to recreate the heroics that dubbed him one of the most promising Liverpool players.
His forward runs may have left the Reds defense unprotected on numerous occasions, but it was his tendency to crumble under pressure that made him the biggest liability in the Liverpool starting XI. Klopp consequently tried moving Moreno further upfield and the Spaniard's performances improved noticeably. However, that leaves the left-back position vacant once more.
As if Liverpool needed any more reason to find a new defender, Jose Enrique recently left Anfield, meaning that the Reds are now well out of their depth in the left-back spot.
FC Koln's Jonas Hector could be the answer to the current Liverpool left-back problem, but his steep price tag (reportedly around €30m) might eventually put off the Reds. Nevertheless, if Liverpool truly want to challenge the top four next year, they will need to spend a lot this summer and Hector should be one of their priorities.
2) Do not sell Philippe Coutinho
This might seem like a no-brainer for most Liverpool fans, but the club might be tempted to sell Philippe Coutinho as Paris Saint-Germain are reportedly ready to offer €60m for the skillful Brazilian.
However, under no circumstances can Liverpool afford to lose their star player right now. If they decide to cash in on Coutinho, their position in the transfer market will be severely damaged and they might miss out on a number of transfer targets due to a simple lack of appeal.
Keeping Coutinho for at least one more year would be a strong statement of intent from the club and it might eventually prove to be the decisive move in the upcoming season.
1) Sign a defensive midfielder
It is common knowledge that Liverpool desperately need a holding midfielder who can bring some stability and consistency to the current side.
At the moment, Emre Can is covering the defensive midfield position for the Reds, but it is clear that he is far more suitable to play further upfront as a central midfielder. Jordan Henderson, Joe Allen and James Milner are all players that can fill the necessary role, but neither of them is a natural holding midfielder, which was more than evident in their recent Europa League final. Lucas Leiva, meanwhile, is well past his peak and can no longer perform regularly.
That means Liverpool will have to sign a new defensive midfielder and Mahmoud Dahoud has already been tipped to join Liverpool this year. The youngster would be the perfect signing for Klopp, but it might be hard to pursue Borussia Monchengladbach to part ways with another midfielder following the departure of Granit Xhaka.
Nuri Sahin is another possible solution for Klopp, but it remains to be seen whether the player would like to return to a club that treated him poorly during his previous, temporary stay at Anfield a few years ago.
About the author – Dusan Lucic
Dusan has been writing sports-related article for 5 years and has a keen interest in the Premier League, Bundesliga and Serbian SuperLiga. He has previously written for Bleacher report, Arena sport,  Sportal and The News Hub. He is currently studying Serbian language and literature at the university of Belgrade.