I Am a Soccer Manager Addict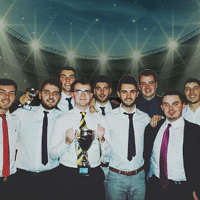 Posted on 04th November 2015
It feels like a confession to say it, but myself and a group of young men have been playing SM for at least three years now and none of us can imagine life without it.
We are currently in the third season of the third incarnation of our league. As manager of Borussia Dortmund, I have won the Bantersliga title in the previous two seasons and all (apart from one – sorry Onix) of the managers have picked up silverware in the previous leagues, the Superbosh and the Standard League.
So far, so normal. But this is serious business, and we are devoted to it.
Devotion is certainly the word when you look at the lengths we've gone to for this online football management game. Dinners, trophies, dedicated Twitter accounts, video applications for vacant posts, photoshopped newspaper front pages – you name it, we've done it.
Before the matches even begin, the start of the league heralds the anticipated draw. Which team will we be paired with? Who'd get the comparatively weak Arsenal or Dortmund (who've won the last three titles by the way)? Who'd be facing each other in El Clasico? Who was off to Manchester?
The draw itself is the culmination of weeks of nerves. Mock draws are made with the results welcomed and scoffed at by managers in equal measures. When it comes to the real thing, the teams and names are paired from Kinder Egg shells, with cheers ringing out for good draws and heads slumping to the table or eyes looking to the sky questioning fate and destiny itself if the unwanted teams are plucked from the hat.
As soon as the name is drawn, the work begins. In our minds we jet out to our new homes to meet our squads. Each manager knows their targets. Each manager has a dossier compiled of their team's strengths and weaknesses and what deals could potentially be done. The best external team, Atletico Madrid, are pillaged for their highly rated stars.
Transfer sagas are played out. Big deals fly in every direction. In incredible scenes, Messi and Ronaldo are traded for one another. Falcao is returned to Monaco on loan on the fly in a bid to sneakily secure his services permanently. Other managers notice and offers inundate the Stade Louis II. I'm offered everything including the kitchen sink for Kevin de Bruyne. It descends into chaos. But it's amazing.
Once our squads are assembled, everything is put on hold at around 8pm on our gamedays, Thursdays and Sundays. We spend hours agonising over formations and tactics, tinkering away until we're confident that we've picked the right lads to go out and get a result. Team news is announced via our managers' Twitter accounts, often with crude photoshopping.
When the results are in, it's straight to the WhatsApp group to discuss the night's action. No spoilers though – wait until your opposing number has viewed.
We have an official media partner, The Bugle, which produces front pages based on the latest goings on in the league. Stirring up trouble is the anonymous Insider Twitter account, passed on in secret each season to a new manager to run. Bantersliga 365 and OptaSM have popped up too for odds and stats.
I've been lucky enough (or tactically astute enough) to win the league twice now, and it ranks up there with my proudest achievements. When Wesley Sneijder scored the goal that saw off Bayern and gave me an unassailable lead at the top I was in what can only be described as a state of euphoria.
That's the thing about our love of SM. We ARE the managers. These are OUR squads. Winning is a joy, losing is a sickening punch in the gut.
And the best part about SM is that it has brought a new group of friends together through a shared love of this game. So, at the end of each season, there has to be a coming together of managers.
We don our best suits. We make sure our ties (official club merchandise) are tied and some of us have been known to throw in a scarf or a pin badge too. On the latest occasion, one of us made a 450 mile trip up from London to attend. Now that's dedication.
Restaurants across Glasgow have been baffled. Just why has this group of young men gathered here, and why do they have trophies? Usually they assume we're footballers, and to be fair, two of our number do play in the Scottish lower leagues. But often we use the excuse that we coach youth teams, or just have to confess it's all about SM.
At the dinners the first exchanges between managers usually descend into frantic transfer negotiations within seconds. We vote on player of the season. We vote for a best manager and a worst manager. There is banter, there is serious discussion and there are, of course, the trophy presentations.
The Shield is presented. The Cup is presented. Then the league trophy is presented. And no expense has been spared – these are genuine pieces of silverware.
One of the most memorable nights of my life took place in Glasgow's Viva Brazil as the Champions League theme blared through the restaurant's sound system and a waitress brought over an ice cream sundae in one hand, and the league trophy in the other. The other diners were bemused – I was elated.
Now, I know this all sounds ridiculous, but I assure you that 100% of this is true. We are this devoted, we are this in love with the game that is Soccer Manager. I think I speak for myself and all of my fellow managers when we say that this game has brought something amazing into our lives. We've been brought together as a group, as firm friends.
Now roll on our tenth season celebrations. We're off to Dublin for a manager's weekend. What could go wrong?
About the author – Ross Crae
Ross has been playing Soccer Manager Worlds since 2012 and is now a self confessed SM addict who competes in several Game Worlds.
twitter: @RSCrae