Chievo continue to punch above their weight in Serie A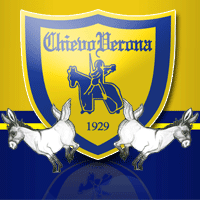 Posted on 14th September 2015
Hellas Verona fans were fairly confident. "Donkeys will fly before Chievo play in Serie A," went the famous chant directed towards their city rivals throughout the 1990s.
Their postulation was entirely understandable. Chievo, a tiny suburb to the west of Verona with just 4500 inhabitants, had never even come close to reaching the Italian top-flight. When Hellas' playful taunting began at the first ever derby between the clubs in December 1994, Chievo had just reached Serie B for the first time and were widely expected to drift back down the leagues and into the wilderness once more.
Miracle is perhaps an overused word in football, but what has happened in the 21 years since that meeting has certainly been scarcely believable: while Hellas have yo-yoed between the leagues, even spending four seasons in the third tier, Chievo have established themselves in Serie A and represented Italy in Europe. In the city famous for its links with Romeo and Juliet, this is a story that even William Shakespeare's imagination would have struggled to come up with.
On Saturday, Chievo went close to what would have been a famous win over the Italian champions at Juventus Stadium, the Bianconeri requiring a late penalty to salvage a point against the side who currently sit second in the Serie A standings.
Chievo were founded as an amateur team by factory workers living in the area in 1929. It took until 1957 for the club to given their first proper home by local priest Silvio Ventura, who offered them use of his parish's field.
Seven years later, Chievo were purchased by Luigi Campedelli, the owner of the confectioners Palauni. At the time, the boardroom switch was considered insignificant and, despite some steady progress, Chievo remained in the lower echelons of the country's footballing pyramid for another couple of decades.
Today, though, Chievo and the Campedellis are synonymous with one another, and the change of proprietorship in 1964 is now seen as the event that set the club on the path to the shining lights of Serie A.
The first major sign of progress came when the Gialloblu reached Serie C2 in 1986, the lowest level of professional football on the peninsula. Carlantiono Bottagisio, the church pitch, was traded for the Stadio Marc'Antonio Bentegodi in a groundshare arrangement with Hellas, who had just won the first – and, to date, only – scudetto in their history. Although Chievo's fanbase was still far too small to fill even half of the 38,500-capacity arena, the relocation was indicative of the growth of the club both on and off the field.
Luigi Campedelli tragically died of a heart attack in 1992 and was replaced by his 23 year-old son Luca, who became the youngest chairman in the country. Undeterred, Chievo reached Serie B in 1994, cheered on throughout their promotion campaign by intrigued Hellas fans astounded by the incredible rise of a team on their doorstep that they had previously never heard of.
In 2001, the unthinkable happened: Chievo were promoted to the highest tier of Italian football. Even more unbelievably, the Gialloblu went on to lead Serie A for six consecutive weeks at the beginning of their debut top-flight campaign.
Managed by Luigi Delneri, Chievo played fearless football, taking the game to richer, more well-known opponents. Two clean sheets were recorded in wins over Fiorentina and Bologna at the start of the season and, despite throwing away a two goal lead to lose 3-2 to Juventus in their third game, Chievo were looking down at Serie A's other nineteen teams from the summit after impressive wins over Piacenza, Parma and Torino.
Although Chievo were still top in mid-December, a late-season slump saw the most unlikely of title challenges fade as Juventus, Roma and Inter's superior quality and strength in depth pulled them away from the chasing pack. Nevertheless, Chievo's fifth-place finish qualified the club for the UEFA Cup, Delneri's side only denied a place in the Champions League by Milan's 3-0 final-day victory over Lecce.
The heights of 2001-02 may not have been reached since, but Chievo are now considered part of the top-flight furniture having competed in thirteen of the previous fourteen Serie A seasons, a record that only Milan, Inter, Roma, Lazio and Udinese can better.
The most remarkable aspect of the story is also what makes it such a fairytale: it is extremely difficult to rationalise exactly how Chievo have consistently punched so far above their weight. After all, there has been no billionaire oligarch or major swell in attendances, and the continued nature of the club's success precludes it from being simply attributable to a single manager or group of players.
Luca Campedelli's first move as owner in 1992 was to appoint Giovanni Sartori as sporting director; 22 years later, it remains perhaps his shrewdest decision. Sartori has proved excellent at keeping Chievo competitive on a tight budget, implementing a recruitment strategy explicitly detailed on Palauni's official website as a "passion for discovering new talent and giving a boost to talent that has lost its way". The current front three of Valter Birsa, Alberto Paloschi and Riccardo Meggiorini, for example, are all rather unfashionable but have been excellent at the start of this season.
Over the years the adventurous, attacking style of 2001 has been replaced with a more reactive approach, yet Chievo remain a very difficult side to play against, the ferocious team spirit and togetherness that has characterised the Gialloblu throughout their top-flight adventure retained.
Chievo may have lost some of the neutrals' love because of their staying power and more negative setup, but that simply underlines how much the club are now considered to be just another Serie A outfit, which in itself remains an extraordinary achievement.
This, after all, is a team from a tiny suburb of Verona whose entire population could fill San Siro almost eighteen times; logically, Chievo should be favourites for relegation every term, but recent history has made the Italian public wary of making such predictions, and their start to the current campaign suggests they will comfortably survive again this year.
The donkeys, now with fully-grown wings, show no signs of stopping their improbable flight any time soon.
About the Author – Greg Lea
Freelance football writer. Work published by FourFourTwo, The Guardian, World Soccer, Goal, The National, Squawka, Eurosport, The Blizzard + others.
Twitter @GregLeaFootball