Adrien Rabiot – The Young PSG Star With A Bright Future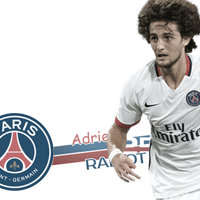 Posted on 22nd February 2016
Adrien Rabiot is only 20 years-old but standing at over six feet tall, the young French midfielder has an intimidating presence on the field, and is already built for first team football.
Rabiot made his debut at Parc des Princes in a friendly against Barcelona, a fact that passed under the radar at the time owing to the presence of a certain Zlatan Ibrahimovic, who was also turning out at PSG's home ground for the first time.
His performances in his first games were very good for someone so young, gaining recognition from the World Cup winner Lilian Thuram and Carlo Ancelotti who was the manager at the time. They both agreed that Rabiot could be the future and have a long and successful career in Paris. .
At only 20 years-old, he has impressed his team mates with his simple but effective way of playing, his self-abnegation, his insatiable desire of progressing, and his intimidating physique. One aspect that he needs to work on is to improve his vision.
However, Rabiot is not short of role models in Paris. The youngster can learn so much from the technique of Verratti, the application of Matuidi and the physique of Thiago Motta, who is built in an almost identical manner to the 20-year-old.
Over time, he has won the respect of his teammates and he craves even greater recognition, that's why he and the club extended his contract to June 2019.  
There have been rumours that he wishes to play more, but with the fierce competition he faces in Paris, he may have to bide his time a little longer. A host of clubs are continuing to keep tabs on Rabiot, most notably Arsenal, Manchester united and both MIlan clubs. However as Rabiot has already stated – ''Paris is my city, it's great to play here''
So, will he become the great player that we expect ? For a lot of great names in football, there is no doubt.
About the author – Damien Sinico
Damien lives in France and has been playing Soccer Manager for 3 years. He is supporter of Olympique de Marseille and his favourite player is Steve Mandanda. His ambition is to travel the World