Zlatan Ibrahimović – The Serial Title Winner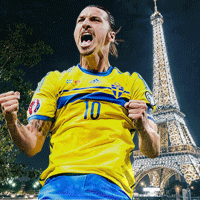 Posted on 14th March 2016
This weekend Zlatan Ibrahimović scored four goals to help PSG seal the Ligue 1 title after a 9-0 demolition of Troyes. It's the Parisians 4th league title in a row and it looks like that run will continue into the foreseeable future. It was also Zlatan's 13th title in the past 15 seasons. This is a remarkable achievement and this success has come at 6 different clubs. In terms of domestic competition, simply put, there has been no more successful player than Zlatan since the term of the millennium.
Although he failed to win the Allsvenskan in his teenage years with Malmö, his first league title came at the age of 20 when Ajax won the 2001-02 Eredivisie. Another Eredivisie title followed in 2003-04 before he joined Juventus after the Euros. He went on to win two consecutive Serie A titles in 2004-05 and 2005-06 but the Italians were later stripped of these due to their involvement in the match-fixing scandal. Juventus were relegated to Serie B due to their involvement and Zlatan transferred to Inter.
Inter emerged as the new powerhouse of Italian football after the match-fixing scandal and Zlatan went on to win three consecutive titles prior to transferring to Spanish giants Barcelona in 2009. The Swede only stayed in Catalonia for one season before returning to Italy on loan in 2010. However, in his one season in La Liga he won yet another title.
In his first season back in Italy he helped Milan secure their first Serie A title in 7 years. This was Zlatan's eight domestic title in a row. He then joined the club on a permanent transfer but 2011-12 ended with no league medal for the first time in 9 years. Zlatan than joined PSG and helped them to end their 19 year drought as the Parisians won the 2012-13 Ligue 1 title. PSG followed up this success with two further titles in 2013-14 and 2014-15 and have just wrapped up their fourth consecutive title with 8 games to spare.
The Swede is out of contract this Summer and said jokingly that he would only stay if the club replace the Eiffel Tower with a statue of him. This isn't likely to happen and it looks like the serial title winner has made his mind up and will leave the French capital in the coming months.