Why Kingsley Coman Will be a Future Star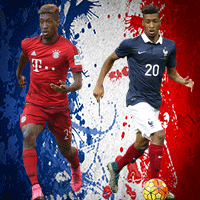 Posted on 18th February 2016
Two years ago, nobody knew his name, Kingsley Coman. He left PSG, his former club for Juventus last year and went to Bayern Munich 6 months later to look for something what he had not before: playing time and recognition. The winger was a bright talent, but at 19 years of age was still far too young to have an immediate impact, particularly in what many are referring to as one of the greatest Bayern teams in recent history.
Brought over from Juventus, he has everything fans want to see. He is fast and direct, has brilliant ball control and an eye for goal.  Voted as the World's best young player after joining Bayern Munich, Coman has adapted brilliantly to his new settings , playing with the maturity of a player well beyond his years and delivering in a big way. Despite cooling off a bit towards the end of the first half of the season, he entered the winter break with four goals and seven assists to his name. Not that bad for a teenager.
The official Bayern website confirmed in August they had a purchase option for Coman, with Italian football expert Tancredi Palmeri reporting on his Twitter account that the option to buy amounted to €20 million, which in today's world seems small change for a player with such high potential.  Coman will stay until his 21st birthday, and only shortly before that time will Bayern have to decide whether or not to exercise their purchase option.
Coman is much like Robben in that he has blistering pace. He's not quite at the same level as a dribbler, playmaker or a finisher, but at the same time, it's important to remember that he's still very young. Robben wasn't the player he is now when he was 19. Only a few years from now will we have a true idea of the type of player Coman can be. One area where Coman already has an advantage is his versatility. Robben is almost fixed as a right-winger and struggles to do anything other than run directly at the opposition, whereas Coman is a bit more ambidextrous and has had the tactical flexibility to show up left, right and center and still have a good effect.
It looks to be a question  not of whether he will become a star but when. Still just 19 years of age, Coman looks to have an outstanding future ahead of him and could be a regular for France and Bayern Munich for a long time.
About the author – Damien Sinico
Damien lives in France and has been playing Soccer Manager for 3 years. He is a supporter of Olympique de Marseille and his favourite player is Steve Mandanda. His ambition is to travel the World.