Title Pretenders – Who Will Win?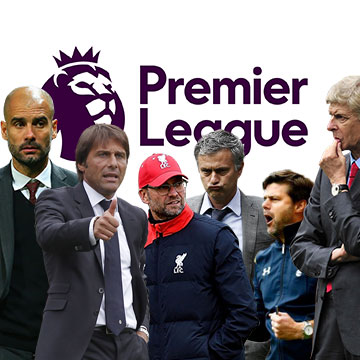 Posted on 30th September 2016
Last season was the seventh time in a row that the champions failed to successfully defend their title and it was 5000/1 shot Leicester City that became the sixth different winner of the premier league. Due to this the 2016/2017 Premier League season is arguably going to be the most exciting and debated about season ever. Here we look at the teams that have started well and their subsequent title chances:
Manchester City:
Maximum points after six games, plus 13 goal difference and off to a flyer in the Champions league. Terrifying statistics for the rest of the league and just what the blue half of Manchester wanted and were expecting after the appointment of Pep Guardiola as manager. His predecessor, Manuel Pellegrini, started in similar fashion and even won the Premier League in his first season in charge and City's second in three years but two lacklustre attempts since then cost him his job and City needed someone to spark life into their team. Who better to do this than Guardiola and he has done just that, it took barely three minutes for a rejuvenated Raheem Sterling to be felled by Van Aanholt and Aguero to score the subsequent penalty. A nail biting finish in this game eventually saw City come out on top but the fashion in which they despatched Stoke, West Ham, Bournemouth and Swansea was like watching Barcelona do the same thing in La Liga. They never looked like losing the Manchester derby, a game that was widely tipped to be a title decider, and ultimately exposed the weaknesses in their rivals' squad as much as displaying their own strengths. Guardiola seems to have found the right formula on the training ground and intelligent signings such as Nolito, Gundogan and Stones have added to an already top class squad. Players such as Sterling, Silva and Kolarov appear to be loving life under Pep and have regained their confidence and are almost like new signings in themselves!
Verdict: Strong favourites
Tottenham Hotspur:
The manner in which Spurs faded away from the title race and ultimately let bitter rivals Arsenal take second place last season was quite worrying and cast doubts over Pochettino's ability to take Spurs to the top. Sir Alex Ferguson's endorsement of Pochettino was glowing and he rated him as one of the best managers in Europe and a future title winner and their start to the current season suggests that this might be accurate. Unbeaten after six games and only three goals conceded points to Tottenham being strong contenders. Vincent Janssen has been brought in to provide much needed cover for Harry Kane and the squad as a whole seems settled and is full of young, fresh, hungry players learning their roles together. Their style of play has become synonymous with attacking full backs providing a threat from the wide areas and Kyle Walker is fast becoming one of the best attacking full backs in Europe. If Spurs and Pochettino can work out how to juggle Champions league football and the busy domestic season they look like one of the teams that can challenge City and if it doesn't happen this year they are only going to get stronger.
Verdict: Perhaps too soon but strong contenders
Arsenal:
No title since the 'Invincibles' of 2003/04 and a missed opportunity last season in coming second place are two major factors in the fans becoming restless with their team's fortunes. The pressure is always on Arsene Wenger to succeed and has undoubtedly done so at Arsenal despite having to seemingly rebuild the team every three or four years. This club philosophy at Arsenal has seen them move to a new stadium and become one of the top teams in Europe but the fans demand titles and this season might be the time for Wenger and Arsenal. Contrary to previous seasons Arsenal have kept their key players and look like building up some real momentum with a team full of international talent. There was no shame in the defeat to Liverpool and the draw with champions Leicester seemed to be the final wakeup call that allowed Arsenal to find top gear this season. The fitness of key players such as Sanchez, Ozil and Cazorla is going to be important for their title chances but in Arsene Wenger they have the most experienced manager in this league and could that prove crucial?
Verdict: Always the bridesmaids but will inevitably be contenders
Liverpool:
Jurgen Klopp was the perfect fit for Liverpool and has improved everything about them in the 12 months he's had in charge. Impressive cup runs in the EFL cup and Europa league, resulting in two finals, ultimately provided quite the distraction from league performances last season and an eighth place finish has seen previous managers lose their jobs but the obvious positive reaction from the Anfield faithful and rejuvenated performances on the pitch were enough for Klopp to earn a full season in charge. He and Liverpool have faith and confidence to once again bring success to the red half of Merseyside and their opening performances have proved that this may be tenable. The pressing approach, of which Klopp is a huge advocate, is proving very successful for Liverpool. The flowing interplay and team defense mentality of Mane, Firmino, Coutinho and Lallana is a wonder to behold and with Henderson anchoring everything from deep it seems Liverpool have got the wind in their sails and if they cut out results such as the one against Burnley they could quite conceivably mount a serious title challenge this season.
Verdict: They continue to go from strength to strength, don't count them out.
Manchester United:
A world record signing, one of the world's greatest managers at the helm and the arrival of Zlatan Ibrahimovic are just three of the reasons why United fans are more hopeful of their chances this season than the previous three since the retirement of club legend Sir Alex Ferguson after winning his thirteenth title in 2013. Jose Mourinho's almost untouchable 'aura of invincibility' took a bit of a beating last season and he as well as some United players have got a point to prove. Mourinho has got a tough job finding the right players to work in the right systems for United this season after inheriting a somewhat disjointed team and this has been apparent already in the Manchester derby and defeat to Watford however an instant impact from Zlatan and glimpses of world class football in their other games leads us to believe it will not be long before we see United back near the top of the table. The manner in which they despatched champions Leicester was particularly impressive and this was with club captain Wayne Rooney watching from the bench, a typically headstrong decision from Mourinho but if it ultimately proves to be the right one he will once more be heralded a genius.
Verdict: Might just fall short of the 'noisy neighbours' again but will do everything to push them to the wire.
Chelsea:
Last season was the worst defence of a premier league title ever and the reasons for this could be debated for weeks and still not be fully understood. The manager lost his professionalism, the star players never turned up and ultimately it will be a season that Chelsea want to forget. Antonio Conte is the latest high profile name in the hotseat of the Abramovich project, and nobody could deny that he has the credentials to be a success. A mixed start to the season began with fine victories against West Ham, Watford and Burnley, Hazard and Costa were back to their best and Chelsea were purring but subsequent losses to title rivals Liverpool and Arsenal might arguably have cost them the title already. It is still early in the season however and the quality in the Chelsea squad is abundant, they will not have European football to distract them and once they fully adapt to the new system Conte has installed they are more than capable of going on a title winning run of form.
Verdict: Might just be a season to return to normal after last term's debacle but must be dark horses.
About the author – Liam Bailes
Liam has been a football fanatic since the early 1990s and continues to be delighted by the sport today. He follows the 5 big European leagues as well as the npower championship and major cup competitions both domestically and internationally. He is an FA level 2 coach and loves to be involved with football at every opportunity.