Tielemans: The Boy Who Charmed Europe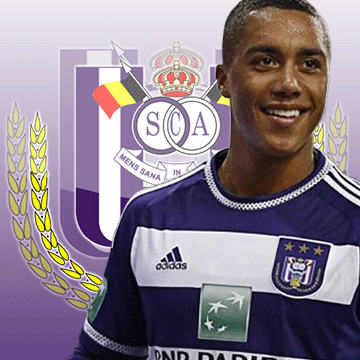 Posted on 18th April 2016
It comes as no surprise to see his name on our young talents blog – Youri Tielemans! This boy celebrates his 19th birthday on May 7th and despite his young age, he is already being tracked by some of Europe's elite clubs.
His talent was clear to see from the age of 6, when Anderlecht signed him for their youth team. He became a regular in the team and at the tender age of just 16 years old, he played in Champions League for the first time against Olympiacos.
Which club will sign him? When he was 16 years old West Bromwich, Bayer Leverkusen, Stuttgart and Wolfsburg were interested in him. But now that he has become a regular in Anderlecht starting line up, the likes of Bayern Munchen, Juventus, Arsenal, Manchester United as well as a host of other top clubs are hoping to sign him.
So what is it that this young prospect has, that has made these clubs fall in love with him?
He's skillful, possesses very good short and long range passing ability, and has an incredible first touch. He has good vision and possesses the balance, strength and tackling ability needed to be effective in a number of different positions. He usually plays as a central midfielder but because of his incredible versatility, he has also been deployed in offensive and defensive roles.
Mentally he's very mature, and over the years his coaches have stated that he learns from mistakes and plays the role of leader in the dressing room.
There are some areas of his game that he has to improve on. His lack of attention when his team is not in possession and  lack of passing precision when he is put under pressure from the opposition are two key areas. He also needs to work on his  shooting and finishing abilities. As he's not a forward, he doesn't need to score a lot of goals in his role. His main task in the role of playmaker is to control the play and provide assists for his teammates. However if he wishes to become a more complete player, which he is fully capable of, he would need  improve these areas of his game.
He is offensive by nature, but because of the physical nature of his game, it would seem that he would be better deployed in defensive roles.
All of his weaknesses are easy to fix and as the latest member of Belgium's golden generation, the foundations are in place for Tielemans to hopefully develop and become one of the best midfielders in Europe.
About the author – Marco Santanche
Marco was born in Rome and supports Inter because of Luiz Nazario Da Lima Ronaldo. He is a Brazilian citizen because of his father's roots. He played futsal for several years, even in the FIGC (Italian FA) as a winger, playmaker and striker. He is now studying for a degree in finance.