Soccer Manager Worlds V2.01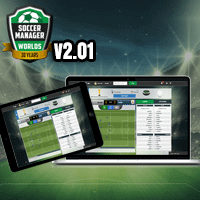 Posted on 27th January 2016
I mentioned in a blog post last week that going forward any updates to Soccer Manager Worlds will be released in versions. So the first update since our relaunch to celebrate 10 years of Soccer Manager is v2.01.
The big news that I want to shout about is the introduction of a 2D matchday experience into our two test Game Worlds, IDs 238724 & 239094, as well as in English Championship 2154 (Game World ID 17658) and Gold Championship 7 (Game World ID 3065). In my post last week I explained how i'd had access to this for the past few months and enjoyed watching my Castilla's matches via a 2D overhead view of the pitch. I'm still enjoying watching my games this way and think it's better than the traditional commentary because you can see the action unfold in front of you.
The 2D matchday experience is currently in Beta and if you'd like to help test it and provide feedback, please feel free to apply for a team in either of our two test Game Worlds or alternatively join either English Championship 2154 or Gold Championship 7. I'm sure you'll agree with me in that it's a massive addition to the game and will enhance your matchday experience.
v2.01 also contains numerous bug fixes and improvements to the new user interface (UI). This wouldn't have been possible without your help, so a big thank you to everyone who has taken the time to provide feedback over the past few weeks. I think that with this latest update the new UI has taken a massive step forward and we're getting to the point where the old one will eventually be phased out. So please keep your feedback coming as this is invaluable.
When we made changes back in December to the algorithm for calculating a player's value, it was changed to include the player's potential rating and any concerns they may have, as well as what was taken into account before: rating, age and position. However, this led to some fluctuations in a player's value and we have now smoothed this out to stop drastic fluctuations on a daily basis.
We've also made the penalties for players playing out of position harsher based on your feedback. I won't go into exact detail of what the penalties are but I will say that I won't be playing a player out of position unless i'm forced to due to a lack of options because of injuries and/or suspensions!
The last update to tell you about in v2.01 are improvements to the free Custom Game World that you receive when your reputation is 45+. There are numerous managers who've invited their friends to join them in Soccer Manager Worlds and take a club in the new Custom Game World that they've created. As a thank you to those that have filled their Custom Game World, you will receive another free Game World if your last one is still active when you've finished your first full season. So it's no longer a one off and you can keep receiving free Custom Game Worlds for you and your friends to play in as long as you all remain active.
To make it easier to invite your friends to join you in your Custom Game World, we've made numerous improvements to the friend inviter tools, allowed the owner to offer clubs sooner, allowed accepted managers to tell their friends about the Game World and also created a news feed were the owner and friends can post messages prior to it opening. I think that with these improvements it's now easier than ever to invite your friends to join you and hopefully you'll all continue to enjoy making the free Custom Game Worlds that we're giving away!
About the author – Steven Gore
Steven is one of the co-founders of Soccer Manager and has been playing SM Worlds since August 2005. He can be found in Gold Championship 7 (Game World ID 3065) managing Castilla if you'd like to join him.