SM18 Update – Biggest & Most Exciting Update Yet!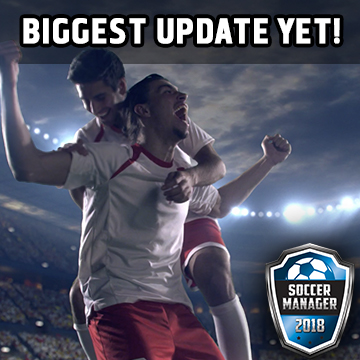 Posted on 14th February 2018
The latest update to Soccer Manager 2018 is now available and includes some exciting new features and improvements:
New Player Values
Since the release of Soccer Manager 2018 we have had reports from our community regarding the player values, these have now been revised and have been altered to be more realistic.
Updated 2017/18 Squads
The database on Soccer Manager is powered by Soccer Wiki, a community driven database. Now that the transfer window has closed all of the squads in the European leagues have been updated to include the most recent transfers.
Media Interaction
Can you keep your calm when tested by the media? How you choose to respond to the media questions could have a positive or negative effect on your club, player's moral and your boards confidence so answer wisely.
New Competitions
We have added domestic Super Cup and continental Super Cup competitions for an extra chance to bring glory to your club.
Team of the Month and Team of the Season
On the 1st of every month the Team of the Month will be announced featuring the 11 best performing players of the previous month. This will also happen for Team of the Season but will be announced at the end of the season.
Live Scores and Live League Table
Make matchday more exciting with the new live scores and live league table features. You can now keep track of all the action within your league and how that impacts your position in the league table in real-time.
Shop Offers- Watch out for the shop offers and a chance to grab a bargain.
Please leave your thoughts on feedback on our forums.