Riechedly Bazoer – The Dutch Masterpiece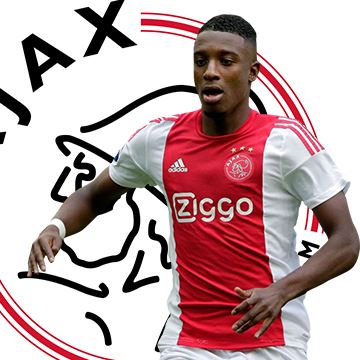 Posted on 19th August 2016
Ajax have a glorious history when it comes to some of the young players that have been moulded into stars within its famous academy: Although he can be perceived to have been one of the greatest, we don't have to think about Cruyff as the only player who belongs in this category.
During more recent times, a lot of Europe's top players have passed through the Dutch academy. For example in 2008/2009 Ajax had players like Stekelenburg (former AS Roma and now Everton), Alderweireld (Tottenham), Blind (Manchester United), Van der Wiel (former Paris Saint-Germain, just moved to Fenerbahçe), Vermaelen (Arsenal, Barcelona and now AS Roma), Vertonghen (Tottenham), Anita (Newcastle), Siem de Jong (Newcastle), Emanuelson (Milan, AS Roma, Fulham), Zeegelaar (Sporting CP) and Luis Suarez (Barcelona, Liverpool).
The next future star off the famed production line is Riechedly Bazoer, for sure.
After the departure of Milik, another top player in the Lancers is charming Europe's Elite clubs: This young (20 years old) central midfielder is a summer target for Internazionale, where his former coach Frank de Boer has just become the new manager.
Born in Utrecht in 1996, this young midfielder has roots in Curaçao. Ajax have often brought in young players from that country (a former colony located in Central America). He started his career at a club called USV Elinkwijk, where Van Basten, Afellay, Aissati and Labyad made their first steps in football. He was bought by PSV when he was just 10 years old, but 6 years later he decided he wanted to be part of Eindhoven's rival club, Ajax.
In 2014 he has made his debut for Ajax, in the Dutch cup, but in the last season he became a regular in the starting line up.
Because of his physical presence (184 cm tall) he started as a centre-back. However, because of his wonderful ball possession and passing accuracy, he became a central midfielder. He possesses nice shooting and tackling abilities, considering that he received just 4 yellow cards and won the 80% of the tackles he attempted in the past season.
There are some areas of his game that he could improve, such as his dribbling and crossing. However with age being on his side, and with de Boer as a coach, he surely could improve quickly and develop into a modern all round central midfielder.
However Inter may face stiff competition from the likes of  Arsenal, Bayern, Juventus and Manchester City for his services. That said, Bazoer has already stated his dream destination – FC Barcelona.
Will Bazoer come to Italy and shine? He's already being compared to Patrick Vieira: everyone in the Netherlands have high hopes for him to become a star of this generation (everyone except PSV, for sure…) and it is very unlikely that we haven't seen the best of him yet.
About the author – Marco Santanche
Marco was born in Rome and supports Inter because of LuiZ Nazario Da Lima Ronaldo. He is a Brazilian citizen because of his father's roots. He played futsal for several years, even in the FIGC (Italian FA) as a winger, playmaker and striker. He is now studying for a degree in finance.