Ousmane Dembélé – France's Most Naturally Gifted Talent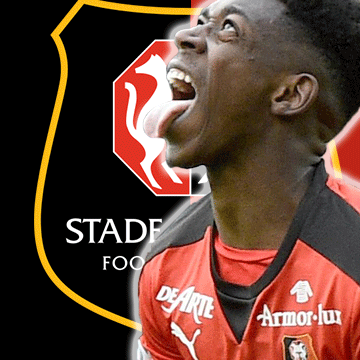 Having taken Ligue 1 by storm since making his professional debut in November, Ousmane Dembélé has been catching the eye of scouts from a host of Europe's top clubs.
Considered the latest — and perhaps most naturally gifted – attacking player to emerge from the French production line, the 18-year-old Stade Rennais prodigy has already been lined up for a summer move to Borussia Dortmund, if German newspaper Bild is to be believed.
Dembélé's agent moved quickly to deny the rumours of a Bundesliga switch, but it's easy to see why BVB — or any top club for that matter — would want to snatch this young star away from the Stade de la Route-de-Lorient.
Since making his first-team debut against Bordeaux on 22 November last year – a game in which he also scored – Dembélé has amassed an impressive tally of 12 goals and five assists from 23 Ligue 1 appearances. In doing so, Dembélé has become the youngest player in the history of the French top division to reach double figures in terms of goals scored.
What sets Dembélé apart is his incredible pace and dribbling ability; dribbling skills that are further augmented by the fact that, although nominally right-footed, the France under-21 international is extremely comfortable using his weaker foot. This ambidextrousness allows Dembélé to change direction quickly and comfortably, making him an unpredictable proposition for opposing defenders.
Dembélé's ability to effectively use either foot has also made him a versatile attacking weapon for Rennes. Indeed, in his 19 Ligue 1 starts he has played on the left of the attack five times, eight times on the right and six times as a central number 10-type attacking playmaker.
Despite a willingness to operate anywhere across the forward line, Dembélé certainly appears to prefer a central role. This notion is evidenced by his productivity in the position: seven of his eight goals have come while playing as a central attacking midfielder, along with averaging a WhoScored.com rating of 8.5 when playing through the middle.
To add to his positional versatility, Dembélé also possesses a diverse skill-set. The aforementioned dribbling skills are complimented by an assuredness in front of goal when presented with a chance. A sound striker of the ball from distance with either foot with an acute eye for a killer pass – all goes toward justifying the hype that has surrounded the young man.
In March, Dembélé registered his first professional hat-trick in a 4-1 victory over Nantes. His broad tool-box of attributes was again on full display. His first goal was a toe-poked shot from 18-yards out after a poorly cleared free-kick; a long distance free-kick which bounced in off the post gave Dembélé his second; and the treble was completed by a dribble from the half-way line, before cutting inside to beat his marker and finish neatly past the goalkeeper.
Were it not for the fact that France already boast an enviable array of attacking talent in his position – the likes of Antoine Griezmann, Anthony Martial, Dimitri Payet, Kingsley Coman and Hatem Ben Arfa – Dembélé would likely have already made his senior international debut, and be a strong contender to be included in his country's squad for EURO 2016. As it stands, the youngster remains one for the future for France boss Didier Deschamps, but it surely won't be long before we see Dembélé tearing apart defences for Les Bleus.
Whether or not Dembélé is set for a summer switch away from Ligue 1 remains to be seen. But purely from a style perspective, the Dortmund link makes perfect sense.
Thomas Tuchel's men are a team who, though comfortable in possession, thrive on rapid transitions from defence to attack. The pace and ball-carrying ability of Dembélé makes him a perfect match for the Black and Yellows.
A parallel could also be drawn between Dembélé and another former Ligue 1 stand-out, Pierre-Emerick Aubameyang. When Aubameyang joined Dortmund from Saint Etienne in 2013, he was utilised primarily as a right-winger by then BVB boss Jürgen Klopp. But when Robert Lewandowski joined rivals Bayern Munich on a Bosman in 2014, Klopp gave Aubameyang the opportunity to replace the departing Polish international as Dortmund's primary central striker. Aubameyang has since gone on to become one of the hottest goal-scorers on the continent, terrorising defences with his blistering pace and ever-improving finishing.
Whether at Dortmund or elsewhere, it is not too difficult to imagine Dembélé's career taking a similar trajectory. Already a more skilled dribbler than Aubameyang, and with pace to burn, the Rennes player's confidence in front of goal could see him leading the line at some stage.
Meanwhile, Dembélé will continue to learn his trade as a position-shifting attacker, sharpening his tools before honing in on one set position. And if he does indeed end up joining Dortmund – much will depend on whether rumours of a €100m move away from Signal Iduna Park for Aubameyang are true – his versatility will mean he is able to slot in comfortably in several positions.
Wherever Dembélé plays next season, hopefully he will be given the time to iron out the deficiencies in his game, without being under too much pressure to perform every week. The areas in which the 18-year-old's game is lacking – understanding of defensive responsibility and decision making – are common in most players of his age. Given the time to mature, the young Frenchman promises to have a bright future
"I saw Cristiano Ronaldo come to Manchester United at the same age, and Ousmane has some of the characteristics that remind me of a young Ronaldo," Said Rennes presidential advisor and former Manchester United defender Mikael Silvestre, when speaking to France Football. "I'm going to go out on a limb, but he could win the Ballon d'Or."
High praise for and high expectations for Dembélé, but the young player has all the skills to back it up.
About the author – Ryan Baldi
Ryan is a Midlands based freelance sports writer specialising in European football. He has been fascinated with the continental game ever since he was presented with his first football kit at the age of 7 years old whilst on holiday in Spain – a Barcelona shirt with 'Romario 10' printed on the back. A contributor to numerous footballing websites, Ryan has also covered martial arts for local and national print publications. Ryan's musings on European football can be found here. 
twitter: @RyanBaldiEFB