Napoli's Summer Transfer Business Represents A Change in Direction For The Club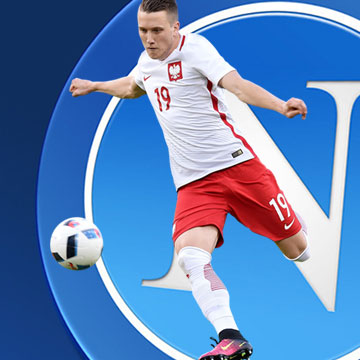 Posted on 02nd September 2016
It has been three years since Napoli made a huge double-edged statement in a bid to climb back to Italian football's peak, and again they find themselves at a crossroads.
In the summer of 2013, Rafael Benitez, fresh from success against the tide at Chelsea, and Gonzalo Higuain, looking for regular first team football after a frustrating spell at Real Madrid, arrived in the hope of taking a real challenge to intense rivals Juventus for the scudetto. It never really materialised.
By that point, the Bianconeri had won two successive titles and reasserted themselves at the top after a turbulent decade, mostly centring around the calciopoli match-fixing scandal. Three years on, Napoli, themselves no strangers to off field issues having been declared bankrupt in 2004, are without both Benitez and Higuain and the rebuilding starts again.
Success proved illusive for Benitez before he departed for Real Madrid last year, finishing third and fifth in his two seasons at the Stadio San Paolo, while Higuain came into his own under new boss Maurizio Sarri, netting 36 goals as the Partenopei ran closer than ever, clinching second place.
They may not have the numbers to compete with the likes of Juve, Milan and Inter, but Napoli are a club brimming with history. Their aim, since the glory days of Diego Maradona in the 1980s and early 90s, has always been to get back there, and at times it has looked like they may do, under both Sarri and the man who preceded Benitez, Walter Mazzarri.
But their foes in Turin have proven too strong on many an occasion, and in truth it looks unlikely to change any time soon. Football in Italy has a unique feel, but in Naples fans are not afraid to take extreme measures to show the love for their club. If all is well, the atmosphere is amazing, if not then hostility is ramped up, but either way it is a spectacle to behold.
When Juventus poached Higuain from their grasp, paying a £75million buyout clause in his contract in the closed season, Napoli were stunned, forced to pick over the bones of a shattering blow, while still attempting to continue Sarri's good work over the coming years.
This is a club for the people, with fans who love a talisman, and that is part of the reason Higuain will never be forgiven. Maradona, Higuain and Edinson Cavani, amongst others, have shouldered the responsibility of bringing success to this most unique of football clubs, but they have changed tactic as they continue to push for as third league title in their history.
Luring Higuain was in direct response to the sale of Cavani, for over £50million, to Paris-Saint Germain. The Argentine provided a guarantee of success given his experience, but his replacement, Arkadiusz Milik, a 22-year-old Polish striker from Ajax, cannot make the same promises. His arrival has very much been part of a theme, too.
Younger players with potential have been recruited to work under Sarri, meaning Napoli are looking further into the future than ever before. Amadou Diawara, Marko Rog and Piotr Zielinski, three other examples, are unlikely to hit the ground running, but the trio of exciting midfielders will go far, given time.
Diawara, a central midfielder signed from Bologna, was chased by a host of European clubs, but forced through a move to Napoli. The 19-year-old Guinean's growth in Italy has been rapid, enjoying a single stellar campaign in Serie A. His pace, strength and power are typical of a player of his ilk, but his technical abilities set him apart and he should thrive in years to come.
Most impressive about these signings is the versatility between them. Rog is more creative and has an eye for goal. Though he has only signed on loan from Dinamo Zagreb initially, Napoli will be obligated to make the deal permanent for €12.5million come the end of the season. Should he fulfil his potential, that fee will prove a steal, and Rog, 21, could possibly take the mantle as chief playmaker from long–serving midfielder Marek Hamsik.
Liverpool were keen on 22-year-old Polish international winger Zielinski, reportedly failing to lure him from Udinese early in the summer before a deal was struck to keep him in Italy as the transfer deadline ticked closer. Extremely talented with tricks and pace in abundance, at 5 ft 11 he is powerful and strong, offering something different to Dries Maertens out wide. Despite only playing a handful of times in Udine, Zielinski really came into his own on loan at Sarri's former club Empoli last season, scoring five goals in 35 Serie A games.
Gonzalo Higuain's exit may cast a dark shadow for Napoli, and their title challenge may be over before it starts in the eyes of some, but with four excellent young players in Milik, Diawara, Rog and Zielinski all moving to the club, something exciting may just be brewing in southern Italy over the coming years.
About the author – Harry De Cosemo
Harry is a European football writer specialising in English, Spanish and Italian football. He has worked for a number of top publications including MARCA in English, uMAXIT football, FourFourTwo, Squawka and the Press Association.
twitter: @harrydecosemo