MSN v BBC – El Clásico's Attacking Tridents in Numbers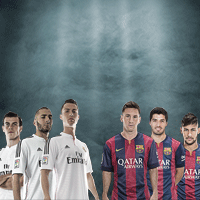 Posted on 31st March 2016
Real Madrid's attacking trio of Gareth Bale, Karim Benzema and Cristiano Ronaldo (BBC) go head-to-head with Barcelona's Lionel Messi, Luis Suárez and Neymar (MSN) in the second La Liga Clasico of the season.
Real Madrid will be out for revenge after losing 4-0 at the Santiago Bernabéu in November. The visitors attacking trio have some remarkable goal-scoring figures this season, but so have Barcelona's.
Which of these Spanish giants attacking trios have the best statistics this season?
The last three La Liga Clasicos have finished Real Madrid 3-1 Barcelona, Barcelona 2-1 Real Madrid and Real Madrid 0-4 Barcelona. 8 of the 11 goals have been scored by the BBC and MSN trios. Whichever strike-force performs the best on the day will likely seal victory for their team.