MOYES' FAITH IN ILLARRAMENDI SHOULD PROVIDE THE PERFRECT PLATFORM FOR HIM TO SHINE AGAIN AT SOCIEDAD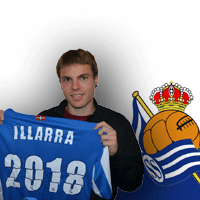 Posted on 14th September 2015
As Asier Illarramendi left the field following his splendid return to his beloved Real Sociedad, in a match against Sporting Gijon, he knew he was home. Trudging off the pitch, the man they simply refer to as "Illarra" received a very generous ovation from La Real's loyal supporters. They know what a special part of Sociedad's fabric he is.
The club's new €16 million record signing, who endured an unsatisfactory stint at Real Madrid, was only too happy to return the favour – giving the fans a gratuitous clap to all corners of the Anoeta. David Moyes, his manager, embraced him too, greeting him with a firm handshake and a pat on the back for his solid outpouring of effort.
Illarramendi would've certainly been thinking how nice it is to be home.
His Scottish manager was especially delighted to have him back in the Basque country. When Moyes recently spoke of how vital a signing the 25-year-old is for his side, it's obvious to see what a key component Moyes intends on him becoming for La Real this season.
"He can help everybody in the team, solve problems from central midfield," said Moyes.
"He'll also give me alternatives to play two or three in central midfield. Illarramendi and his return is very good for the club. Big signings like these make the difference."
Illarramendi himself is very pleased to have made the move to the club where he spent his formative years as a footballer, but upon listening to him speak, it's hard not to notice a part of him that wished he could've succeeded in Madrid.
"Things did not go as well as I would have liked," he recalled.
"You learn from everything, the good and the bad. It was not so bad, though. In two years I won four trophies [the Copa del Rey, Champions League, European Supercup and Spanish Supercopa, although he played only eight minutes across those finals]."
With competition in the midfield spots relentlessly fierce in the Spanish capital, as well as the fact that he never seemed to fully gain the trust of Carlo Ancelotti, it's nice to see him back at a club where he'll be an undisputed starter and where he'll well and truly have the faith of the manager.
Sociedad will be hoping the aforementioned conditions will be the perfect breeding ground for the player, who cost Los Merengues a staggering €38.8 million, to regain his shorn confidence.
Judging from his exhibits against Gijon, while he wasn't at his absolute best, he appeared well on his way to getting back to playing like the Illarramendi we all know and love watching.
Right from the outset Illarramendi was the pivotal instigator in so many of Sociedad's attacking phases. From his deep-lying midfield role, he'd drop in between the two centre backs (Diego Reyes and Inigo Martinez) and look to orchestrate his team's forward forays. From these positions he showcased that superb range of passing of his. He'd unleash 50-yard aerial balls, play precise vertical passes into the feet of his attackers (often disguising them by looking away when he made them) and add some additional slickness to Sociedad's work by playing some delightful one-touch passes.
His role could be compared suitably to the one Andrea Pirlo made famous. He facilitated from deep with intelligent passing, never needing to venture too far forward to impact. Plus by staying deep, he could actively cover Inigo Martinez, who enjoyed motoring forward (much like Giorgio Chiellini does for Juventus) from his central defensive post.
Key to Illarramendi being able to execute his role so effectively was unquestionably his masterful decision making. He never attempted any unnecessarily risky passes, but that wasn't to say he played things entirely safely, though. He just got the balance spot on, only playing expansive passes if he knew he could complete them.
Obtaining such a thoughtful midfielder, who astutely processes every situation he's confronted with and who adds so much finesse, guile and experience in central areas, will surely be a huge weapon in La Real's quest to enjoy a better campaign than the last.
It's all about being disciplined and never doing anything rash for Illarra, and that's what makes him such a magnificent player for Moyes to have at his disposal in this position.
With Moyes' boys having not scored in their opening two fixtures, once he completely readjusts to life back in San Sebastian, he should really begin to get this talented side ticking offensively. The likes of Bruma, Jonathas and Carlos Vela will be licking their lips at the prospect of receiving such brilliant service from Illarramendi throughout the season.
Back at a club who trusts him wholly should do wonders for his form this season. After all, if history is anything to go by, it would appear having a manager and a club that supports him is crucial for him to suceed. When he first broke through under Philippe Montanier's expert guidance at Sociedad, he noted how grateful he was to the Frenchman for giving him a chance, saying: "I have to give very much thanks to Philippe Montanier, who has put a lot of trust in me."
A similar belief was shown in him by his former Spain under-21 boss, Julen Lopetegui, who now coaches FC Porto.
"He [Illarramendi] is a guy who tactically understands everything you pose him and that, apart from the technical quality that is, the component of understanding the game that way, it helps you to be better still," Lopetegui explained following the U-21 Euros of 2013, which Spain emphatically won.
He also went on to say that his charge was "fantastically furnished" for further progression in the profession.
There was no great surprise when Lopetegui tried to bring the man who he believes is the heir to Xabi Alonso in on loan, albeit unsuccessfully, to Porto last term, such is his adulation for the player.
Whereas Illarramendi ultimately failed to gain the trust of Ancelotti, which definitely played a major role in his underwhelming time at Madrid, he'll have no issues with Moyes. The Scot knows what incredible gifts he possesses, and clearly intends to utilise those gifts by making him the focal point of his side.
Now back at Sociedad, all the components are there for him to suceed and get back to his best. Over the coming campaign there's no reason to suggest why we won't see him achieve just that.
What a difference simply being trusted and feeling wanted can make.
About the author – Edward Stratmann
Edward Stratmann writes regularly about the on-field aspects of the game, with a particular focus on tactics and analysis. In addition to featuring on These Football Times, Inside Spanish Football, Anfield Index, Just Football, The Eagles Beak, Think Football Ideas and JuveFC, you can also find Edward's work at Licence to Roam, a football blog he started with his brother in 2013.