Moise Kean – The 16 Year Old Italy And Juventus Wonderkid Set For Superstardom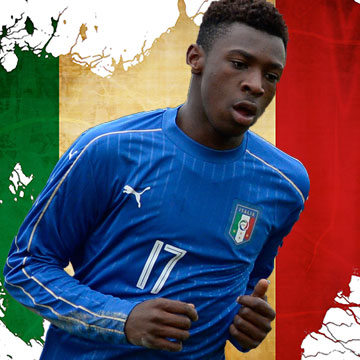 Posted on 25th October 2016
After 21 goals in 10 U15 games, 24 in 26 for the U17's, six in 10 for Grosso's Primavera and 10 in 21 games for Italy's national youth sides Moise Kean has turned some heads around Europe. He made his first start for Juventus' under-19's against Bari in mid-September despite having only turned 16 in February but he outclassed the opposition and scored a fine goal to win the game. The team is coached by 2006 World Cup winner Fabio Grosso, who has seen him rise through the ranks and has promoted him despite his young age.
He is the talk of the town around Italy and has been compared to Mario Balotelli although only for his ability and not for his off field antics and after scoring in each of his two UEFA Youth League group stage games this season, a competition he also starred in last season while only 15, and in all three U19 matches, Kean is in Juventus' full squad. This has come at an opportune moment as Juventus are enduring something of an injury crisis in attack what with Mario Mandzukic and Marko Pjaca out with serious injuries so Max Allegri has only Gonzalo Higuain and Paulo Dybala available.
Kean's scoring record is quite remarkable and doesn't seem to drop off even as he is progressed further and further. He was quoted as saying that shooting, heading and pace are his best strengths so it's not surprising that he scores a lot but his physical presence is also a major contributing factor to this. 6ft tall and already remarkably muscular, he has everything needed to lead the line at youth level, though Grosso has occasionally deployed him on the flank. In either role his running, control and desire to get into the box make him a nightmare for defenders, with most young full-backs lacking anything near the speed or power to prevent him bursting beyond them and causing problems.
Time will only tell if he can take the pressure of first team football, playing alongside superstars such as Higuain but if he has the right people around him and looks to learn from his peers the future can only be bright. His crossing has often lacked accuracy and his final pass and decision making needs improvement and as he gets older, he'll come across higher quality defenders who will match his strength, meaning his decision-making will need to improve as he will have less time to play his game.
Juventus' history of developing and bringing players through into the first team is basically non-existent in recent times what with Claudio Marchisio being the only example of such a thing happening in the past few decades. A few others such as Sebastian Giovinco and Paolo De Ceglie made a few appearances, but Kean is certainly the hope for Juventus to break this worrying trend. The club's sporting director Fabio Paratici and director general Beppe Marotta are unsurprisingly eager to tie Kean down to a permanent contract in order to fend off interest from Europe's elite but wherever he ends up he is likely to be a future star.
About the author – Liam Bailes
Liam has been a football fanatic since the early 1990s and continues to be delighted by the sport today. He follows the 5 big European leagues as well as the npower championship and major cup competitions both domestically and internationally. He is an FA level 2 coach and loves to be involved with football at every opportunity.