João Mário Naval Da Costa Eduardo: Brains On Your feet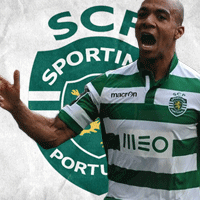 Posted on 30th March 2016
Remember this name: João Mário. A few years ago the 23-year-old player was a total stranger to the football world; now, he's one of the most important players in the Sporting Clube de Portugal's roster and the main prey in this Summer's transfer window. He's the true heart of the Portuguese team, and you can feel the difference on the field whenever he's unavailable.  He's a right attacking midfielder in Jorge Jesus's 4-2-2-2 but originally he was a central midfielder. So what did his coach see to give him a more offensive role? I'll get to that, but first, we need to understand how Sporting plays.
Jorge Jesus fancies a more dragging-to-the-center style, giving the wingers (usually Jefferson and João Pereira or Schellotto) the crossing task. Both the attacking midfielders (Bryan Ruiz on the left, João Mário on the right), have the always difficult job of providing assists for the top scorer Islam Slimani, who does the easiest part: finishing. We know Bryan Ruiz has great dribbling and passing ability, which provides Slimani with the right ball, in the right place. The left Wing has indeed quality. How about the right wing?
When Carrillo caused a riot, Jorge Jesus began working immediately on a within-club solution. At first, the youngster Gelson Martins, who possesses characteristics very similar to the troublesome player, was thought to be the solution; but an injury ruined the manager's plans, and a new solution was needed.
After some experiments, the Portuguese coach soon found his new right attacking midfielder: João Mário. No one would guess that a former central midfielder would make supporters forget about Carrillo, but the truth is that he did. He took his place in the right wing, leaving the midfield to Adrien Silva and William Carvalho. The mastermind Jorge Jesus also thought of the solutions for not being overpowered in the midfield: in attacking tasks, both João Mário and Ruiz, with a little help of a more mobile Second Striker (usually Teo Gutierrez), would function as one in the middle, trying to shoot or provide assists for Slimani; in defending tasks, Ruiz would be more stable as an offensive midfielder, and João Mário would move back into a more central midfielder role.
To acknowledge all of this information, it would require a very intelligent player, one who could correctly implement all of the manager's tactics on the pitch. For Sporting, that player is João Mário. It's now relatively easy to understand why he's such an important player for Sporting. He's got the courage, the confidence, the passing and shooting ability, and above all, he's got the brains. He's the shadow of Slimani and the builder of Sporting' style of play. He's a player that we only see once in a decade, and he has the youth that allows him to dream bigger, outside Portugal.
It isn't difficult to find a club that wants him: in the last week, there were rumors of three European sharks chasing him. Atlético de Madrid, Paris Saint-Germain and Manchester United asked Sporting how much the Portuguese club wanted, and with the financial issues in Portugal, it seems like the Portuguese national team's player won't be in Portugal next season. The Euros are near, and many scouts will be watching his every move closely. Sporting's asking price is €30 Million, which is, in my opinion, is a very deserved fee. For any club searching for a new right attacking midfielder then João Mário is a must buy.
My evaluation:
Stamina Level: 7/10
Shooting: 8/10
Pace: 8/10
Heading: 6/10
Dribbling: 9/10
Vision: 9,5/10
Teamwork: 9/10
Overall: 8,5/10
Potential: 9/10
About the author – Luis Costa
Luis has a great passion for football and has been playing Soccer Manager for 5 years. He played semi-professional football for 13 years and is currently a regional referee is Madeira's football association.