Italy's Future Under Giampiero Ventura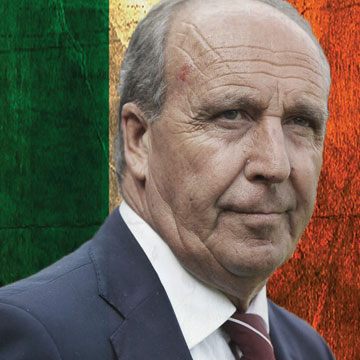 Italy delivered the first truly stunning performance of Euro 2016, upsetting the odds to secure a well-worked 2-0 victory over Belgium on Group E's opening night. Few, including Italian pundits and fans, saw the result coming. Antonio Conte had selected an ageing squad with little by way of star names but, despite widespread criticism of his squad choices, his tactics were perfect.
He then led the Azzurri to another win, this time over Sweden in their second game, to ensure progress as group winners. A much changed team lost to Ireland in the final group game. The Azzurri then outclassed Spain in the last sixteen before losing to World Champions Germany on penalties.
Italy's performance in this summer's championships has been better than expected, Conte is no longer the national team head coach; now that Italy's tournament is over, he will move to London to take charge of Chelsea. His replacement will be Giampiero Ventura.
The 68-year-old's name is not one that many outside of Italy will recognise, but he is hugely experienced and highly thought of in his home country. In short, there are plenty of reasons for the Azzurri to be excited about the future under Ventura's auspices.
Tactical continuity in the post-Conte era
Perhaps the primary positive regarding Ventura's appointment is that he is likely to build on a number of the tactical themes laid down by Conte. This is because the two coaches, whilst having vastly different levels of experience, are of a similar mindset.
Ventura, like Conte, is flexible when it comes to the basic shape he opts to utilise, something former Azzurri boss Cesare Prandelli commented on last October in an interview with Calciomercato, saying: "I love those coaches who can adapt their principles to the qualities of the players they have at their disposal, and it's why I believe that the best coach in Italy today is Giampiero Ventura."
Ventura also has similar preferences to the incumbent Italy coach; both men have experimented with a rather unique 4-2-4 shape in the past, but have settled more recently on the 3-5-2. This is the system in which Italy have operated at Euro 2016, and it is the system Ventura has used to good effect with Torino in the past three seasons.
He has organised the Granata side to circulate the ball effectively in the build-up between the three defenders and one defensive midfielder, while the outer central midfielders push up to support attacks as well as to apply pressure to opposition full-backs. The two wing-backs have often included one on the opposite side to their favoured foot, allowing them to drive inward and create overloads, while up front Ventura has tended to opt for one physical centre forward to lead the line, while another striker whirs behind and beyond.
This setup is extremely similar to that which Conte has used with Italy this summer. Consequently, the players should be well versed in Ventura's principal tactical layout when he takes charge later this year.
Azzurri's exciting future
One aspect of Ventura's management that will particularly excite Italian football fans is his proclivity for blooding young players and giving opportunities to the untested. With Torino he was responsible for rejuvenating the careers of Matteo Darmian, Alessio Cerci and Ciro Immobile, all of whom went on to earn call-ups to the Azzurri and moves to Manchester United, Atletico Madrid and Borussia Dortmund respectively.
He also worked wonders to turn around Kamil Glik's fortunes; the Pole led his country's defensive line expertly at Euro 2016. Additionally, the likes of Davide Zappacosta and Marco Benassi earned call-ups to Italy's pre-Euro training camp having developed under Ventura's tutelage.
This faith in youngsters and undervalued players is something that should allow the former Torino coach to instigate a change in Italy's selection policy. While Conte has been conservative with his call-ups, Ventura may begin to mine the Azzurri's youthful riches that Conte claims do not exist.
That talent pool includes 17-year-old Milan goalkeeper Gianluigi Donnarumma, 21-year-old centre-backs Daniele Rugani and Alessio Romagnoli, 24-year-old regista Jorginho and 21-year-old forward Domenico Berardi, among others.
How Ventura's Italy might line up at the 2018 World Cup
With such promise at his disposal, it is enticing to consider who may start for Italy should they qualify for the 2018 World Cup in Russia under Ventura's guidance. He is known for his adaptability, which means that, while the 3-5-2 is popular right now, he could be open to changing that in order to maximise the qualities of his players.
Conte has occasionally opted for a 4-3-3 shape during his stint in charge and Ventura would be wise to do the same; this system allows Italy to make use of the high quantity of good wingers and inside forwards available at present.
38-year-old goalkeeping icon Gianluigi Buffon has confirmed that he will retire after the 2018 World Cup, meaning he is likely to keep his place between the sticks. In front of him, time is running out for the 35-year-old Andrea Barzagli and 32-year-old Giorgio Chiellini, though the latter could continue his partnership with Leonardo Bonucci going forward, with Rugani and Romagnoli as able deputies.
Alessandro Florenzi is, at 25 years old, maturing into a fine attack-minded full-back. His energy, tenacity and crossing capability make him a good long-term option for the right-back spot, though he will face competition from Darmian, who is only one year older. The Manchester United man could also compete for the left-back berth, though Bologna's 22-year-old Adam Masina has shown real potential in this position.
Marco Verratti may have missed out on Euro 2016 through injury but at 23 he remains integral to his country's footballing future, while Claudio Marchisio, still only 30, can also play a part going forward. Jorginho can be the deep-lying playmaker Italy are in need of as Andrea Pirlo settles into his late-30s, perhaps entertaining thoughts of retirement, while Benassi and Juventus' Stefano Sturaro could inject dynamism in midfield.
On either side of the front three, Ventura will have a wealth of options to pick from, including Berardi, Federico Bernardeschi, Lorenzo Insigne, Stephan El Shaarawy and Giacomo Bonaventura. All are under the age of 26. And, up front, he may choose to call on Andrea Belotti, with the 22-year-old showing mobility, positional awareness and improved finishing in his debut season with Torino.
On the back of some good opening displays at Euro 2016, Italy's present situation is good. But, with Ventura in charge and a talented crop of young stars making their way through the ranks, the future could be exceptional.
About the author – Blair Newman
Blair is a freelance football writer with experience of working for some well known publications, including FourFourTwo, Squawka and Bleacher Report. His main passions are Italian football and football tactics, and he also takes a keen interest in major European leagues and international football in general.
twitter: @TheBlairNewman