Gonzalo Higuain: Why Leaving Real Madrid Wasn't A Mistake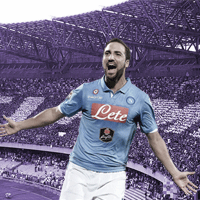 Posted on 12th February 2016
When Higuaín left Real Madrid in 2013, many critics said that he was making the biggest mistake in his career, and that it was a step back in his football life. Well, I can guarantee that those critics must now be ashamed of those words. The Argentinian is, by now, the most likely player to win the European Golden Shoe (former European Golden Boot), having scored an astonishing total of 25 goals in 28 games so far this season.
We've got to admit it's pretty impressive, and the striker does not seem to be showing any signs of faltering.. Despite his age – he recently turned 28-years-old -, Higuaín is showing that he was mistreated in Madrid, where he was only in the shadows of Karim Benzema and Cristiano Ronaldo.
It is clear that some may say that Real made a huge mistake in letting him go. I do agree, but Higuaín surely doesn't: leaving the Bernabeu gave the talented striker a major boost in his career. And Napoli' supporters are now immensely grateful to the former manager Rafael Benitez to have brought such a savior to the club.
Napoli have jumped to the top of the league, 2 points ahead of the current champions Juventus. Maurizio Sarri, Higuaín's actual manager, said that he's "becoming the best striker in Europe and perhaps in the world". I couldn't agree more: the Argentinian has awakened the interest of former UEFA Champions League winners, Bayern Munich.
The owner of the "Die Roten", Karl-Heinz Rummenigge, confirmed the German side's pursuit of the Italian Serie A's top scorer. Surely Napoli will not be willing to let their Nugget (translation of the Spanish term "Pipita") go, now that he's shining more than ever. But a fair offer (let's say €75Million) would be very tempting. But let me be honest: if Zenit St. Petersburg are able to decline €90Million for Hulk, I don't know what Higuain's real price is. But that's just my own opinion
Argentina's National Team head coach, Gerardo Martino, now a real headache. When he can count on Messi, Dybala, Higuaín, Agüero and Tevez, to form the attacking trio (Argentina plays in a 4-3-3), the real trouble is which of those high-quality players will belong in the Starting 11.
In my opinion, I would rather see Messi, Dybala and Higuaín; they would be a fierce trident in Argentina's attack. But we will have to wait to see if Higuaín is able to keep up with the high standards that he has accustomed Napoli's supporters to.
In the Italian League, the striker is truly deadly: 23 goals in the same amount of matches. If he continues this level of form he will no doubt be one of the main candidates for the European Golden Shoe.
About the author – Luis Costa
Luis has a great passion for football and has been playing Soccer Manager for 5 years. He played semi-professional football for 13 years and is currently a regional referee in Madeira's football association.