Germany's Secret Weapons For Euro 2016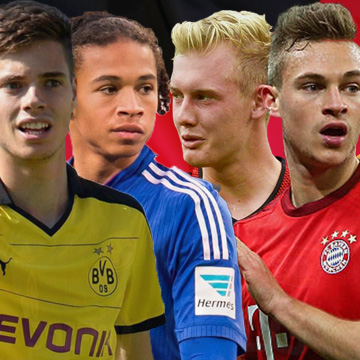 There were no huge surprises when Germany manager Joachim Löwe announced his 27-man provisional squad for this summer's European Championship. The usual cast of superstars like Bayern Munich's Thomas Müller and Manuel Neuer, and Borussia Dortmund's departing captain Mats Hummels, were all included.
So too were some trusted members of Die Mannschaft's 2014 World Cup winning side, such as Toni Kroos, Lucas Podolski and captain Bastian Schweinsteiger.
If eyebrows were raised at the exclusion of Dortmund left-back Marcel Schmelzer, they were soon followed by a resigned shrug, as Löwe has overlooked the BVB player for the best part of two years now, despite there being no other outstanding full-back candidate to justify his absence.
But, just to keep things interesting, there are a handful of young up-and-comers who, given the right platform, could launch themselves into the wider footballing conscience.
Julian Weigl, Joshua Kimmich and, in particular, exciting wingers Leroy Sané and Julian Brandt.
Despite only having one cap between them, Sané and Brandt have produced the kind of performances over the last Bundesliga season that Löwe simply couldn't ignore.
Schalke 04's Sané has drawn interest from both Manchester City and Manchester United, with City rumoured to be weighing up an offer in excess of £30m, as they hope to make the 20-year-old the first signing of the Pep Guardiola era at the Etihad.
Athletic pedigree runs in the family for Sané: his father is a former Senegalese international footballer, and his mother is a former German rhythmic gymnastics champion. So with those genes, a career in professional sport was never too much of a stretch for Sané junior.Playing predominantly on the right-wing – though also comfortable on the left, or centrally as a number 10 – Sané has been a key player for Schalke this season, making 42 appearances in all competitions, scoring nine times and registering seven assists.
In addition to being blessed with blistering pace and crowd-pleasing dribbling skills, Sané is also a confident finisher. Several times this season he has expertly manufactured a pocket of space for himself inside the opposition's penalty area, and tucked away a neatly slotted effort. Although he only has one senior international cap to his name, Löwe clearly values Sané's game-changing abilities, and should find room for him within the final 23-man Germany squad.
Despite having made more Bundesliga appearances than Sané (65 compared to the Schalke man's 47), Brandt's rise to prominence took a little longer. But as the season drew to a close, the Bayer Leverkusen youngster came into his own. Between 20 April and 30 May 2016, Brandt went on a run of scoring in six consecutive Bundesliga matches, becoming the first player to do so since Dieter Müller 42 years ago.
Perhaps not quite as quick across the ground as Sané, though by no means a slouch, Brandt's major calling-card is his phenomenally quick feet. The 20-year-old is able to wriggle away from fastidious markers and move into space in a way that is not possible for the vast majority of players.
Typically deployed on the left-wing for Leverkusen, Brandt will regularly switch sides with right-winger – and fellow Euro 2016 Germany squad member – Karim Bellerabi. Brandt possesses an acute eye for a killer pass and, in recent months, has evidently developed his finishing to a level where, when presented with a scoring chance, a goal feels like a mere formality.
Having closed out the Bundesliga season with six goals and three assists from his final seven games, if selecting a squad on current form, Brandt would be assured to play a key part for his county at Euro 2016.
The fact remains that only 23 men will be making the trip to France in June, so four members of Löwe's provisional 27-man squad will have to be cut. And one or both of Sané and Brandt could be among that unfortunate number, especially considering their inexperience at international level. But both young men have out-performed most of their more-senior peers this season, and are more than deserving of a place in the final squad.
With the eyes of Europe, if not the world, on the European Championship this summer, the stage is perfectly set for Sané and Brandt to elevate themselves to the status of the continent's elite.
About the author – Ryan Baldi
Ryan is a Midlands based freelance sports writer specialising in European football. He has been fascinated with the continental game ever since he was presented with his first football kit at the age of 7 years old whilst on holiday in Spain – a Barcelona shirt with 'Romario 10' printed on the back. A contributor to numerous footballing websites, Ryan has also covered martial arts for local and national print publications. Ryan's musings on European football can be found here. 
twitter: @RyanBaldiEFB