Future Stars – Hungarian Talent Adam Nagy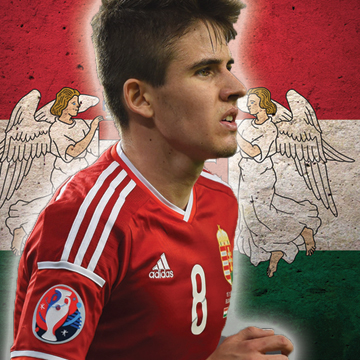 This time last year Adam Nagy hadn't made a senior appearance for club or country. Roll on twelve months and he's now a key member of the Hungarian side that impressed during the group stages of Euro 2016. This was evident in Hungary's last group game against Portugal. Bernd Storck decided not to risk him as he was carrying a yellow card and faced suspension for the last sixteen tie against Belgium.
His impressive performances in midfield caught the eye at the Euros were he played as a deep-lying midfielder in front of the defence. Nagy comes from a fustal background and his technical ability, intelligence and reading of the game makes this an ideal role for him. Even though he is predominantly right footed, he is also comfortable using his left foot and is developing a reputation for being two-footed.
Those that have been following his progress since he made his debut for Hungarian giants Ferencváros in July 2015 won't be surprised that he's suddenly shot to prominence. After all Bernd Storck gave him his debut for Hungary only 43 days after making his club debut. This didn't come in a friendly game but a key Euro 2016 qualifier against Northern Ireland.
Since making his debut for Hungary he hasn't looked back as he's cemented his place in the team. In a crucial Euro 2016 play-off against Norway, Nagy put in a man of the match performance which many observers have said was his coming-of-age game. This led to the Hungarian media claiming that he's one of the best young talents the country has produced since the Mighty Magyars of the 1950s.
Before Euro 2016 it was reported that Marseille had reached an agreement with the player but Ferencváros wanted to hold off any potential transfer until after the tournament because they wanted to see if they could drum up more interest in his services. It seems like they made the right decision because his value has now soared. Southampton and Benfica have now entered the equation and it looks like one of Hungary's best players will be playing in a top European league for the 2016/17 season.