First Look – Soccer Manager 2018 Training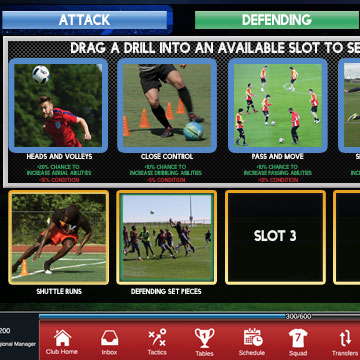 Posted on 20th February 2017
Soccer Manager 2018 is under now development and will be released later in the year. Here are some screenshots of the current work in progress as we are currently overhauling training.
Training will have a complete overhaul. It is a massive part of real-life football and it is how a team improves outside matchday. SM18 will include draining drills for Attacking, Defending and Physical. Each category will have several drills which will help improve the team in different ways.
A new feature for SM18 will be the option to train players individually. The concept behind this is for each player to have their own unique "tech tree". Traits in the tree will correspond to the type of player they are, so a Deep Lying Playermaker traits will focus on passing and creativity, whereas a Ball Winning Midfielder wold focus on aggression and tackling.
Skill points will be acquired through completing "Individual Training Drills", once these drills have successfully been complete it will reward the player with a small number of points, these points can then be spent across the squad, so managers need to choose who they wish to improve in the squad.
Whilst the game is under development, we will post regular updates on new features, improvements etc and we'd love to hear your feedback on our forums.