Ezequiel Barco – the 18 year-old with the MLS record price tag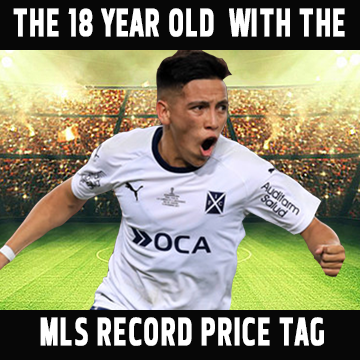 Posted on 16th February 2018
Ezequiel Barco became the most expensive signing in the history of Major League Soccer when he joined Atlanta United in January for $15 million. The signing of the 18 year-old could prompt a change in the way soccer is developing in the States.
Previously MLS has been viewed by some as a retirement home for ageing stars who are coming to the end of their career. Frank Lampard, Steven Gerrard, David Villa, Andrea Pirlo and Kaká all joined the league in their thirties, and commanded huge wages to reflect their standing in the game.
Those type of short term signings could now be overtaken by a desire to bring in young South Americans with their best years ahead of them, and Barco has become the poster boy for a potential new model that could improve the league over the long term.
Most talented youngsters from South America make their way to Spain or Italy, but Barco's choice of MLS, while unusual, could be the perfect move at this stage of his career. By joining Atlanta, he will be managed by fellow Argentine and former Barca manager Tata Martino, and can form an all Latin American attack alongside Miguel Almirón, Héctor Villalba and Josef Martínez.
Barco is the classic Argentine attacking midfielder, with his low centre of gravity and quick turn of pace allowing him to dribble past opponents, whilst also having the awareness to choose the right pass. He has a wealth of experience for someone so young, with 38 appearances for Independiente and a Copa Sudamericana winners medal.
He should continue his upward trajectory in Georgia, and will be hoping that he can use his time in MLS as a bridge to a major European League in the future. If Barco is successful, he will pave the way for others to follow in his footsteps and that will surely boost the profile of MLS around the world.
The database on Soccer Manager is powered by Soccer Wiki, a community driven database. Now that the transfer window has closed all of the squads in the major leagues have been updated to include the most recent transfers. So why don't you head over to Soccer Manager 2018 and start a new career?