End of Season Musings in SM Worlds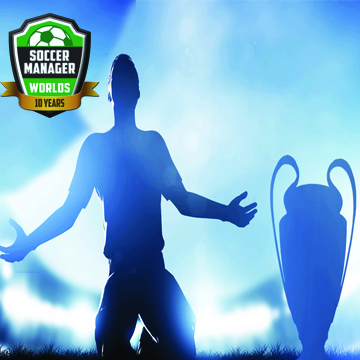 Season 22 in Gold Championship 7 (Game World ID 3065) is now drawing to a close and now is a good time to reflect on a few things.
I wrote an article the other week titled "Treble Dream & Recreating the "Invincibles" on Soccer Manager Worlds". It was another case of déjà vu as I faced the same problems as at the end of season 21 – fixture congestion! I knew that winning the treble as well as remaining undefeated in the league would be a hard task due to 5 games in 8 days. Something had to give so I decided to sacrifice my league games and go for the cups:
Wednesday 15 June League
 Friday 17 June Spanish Cup Semi Final
Saturday 18 June
Sunday 19 June SMFA Champions Cup Semi Final Leg 2
Wednesday 22 June League
I conceded a last minute goal in the Spanish Cup Semi Final and then lost on penalties. On reflection it was probably best that I didn't reach the final as that would've meant playing on Tuesday 21 June as well. By that time my players would've been crawling on to the pitch due to burnout. I was dealt another blow the next day as I lost my first league game of the season. I had to play some of the players from the Semi Final defeat as well as several young up-and-coming players due to saving my strongest XI for the SMFA Cup Semi Final Leg 2.
Hats off to Granada as they outplayed me and became the first team in the Spanish league to inflict a defeat on my Castilla. I was somewhat disappointed because I only had to avoid defeat for two more games to have an "invincibles" season. I had a feeling I'd slip-up here due to sacrificing the league (as I was already 15 points clear) and concentrating on the cups.
It now meant that the return leg against Morecambe in the SMFA Cup was a game that I just couldn't afford to lose otherwise the end to my season would've been a catastrophe! I had the slight advantage over Morecambe after drawing the first leg 0-0 at home. I were also after revenge having lost to them in the final last season.
Thankfully I didn't slump to a third defeat in as many days and I progressed to the final to face a very strong Milan side under new management. My final league game of the season was meaningless as my hopes of  having an "invincibles" season had already been dashed. Therefore it was a case of resting all of my key players ahead of the SMFA Cup Final.
I'd won this competition on 3 previous occasions and this included back to back titles in season 16 and 17. After losing the final last season I was determined to win the most prestigious trophy this time round. I usually play 4-3-3 and I was contemplating on a tactical switch before I noticed that Milan played 3-5-2. On checking their previous fixtures it looked like they didn't deviate from this formation. I knew if they stuck to this once again and I played 4-3-3 the result should go in my favor.
I won the game and claimed my fourth SMFA Cup and i'm sure my Castilla have now won the tournament the most times in Gold Championship 7 (Game World ID 3065) but I may need to double check that. Milan have a good manager at the helm and a strong team. However, just like I thought they stuck to 3-5-2 and that formation can come undone against a manager playing 4-3-3. I'm not going to go into all of the reasons why because this article would get too long and it'd be best doing a separate one about formations and tactics in Soccer Manager.
I can't complain how my season ended as I won my ninth league title and the SMFA Cup for the fourth time. Could I also have won the Spanish Cup and completed an "invincibles" season? Possibly! However, it's a hard ask due to taking the decision to have a small squad to keep a reign on my expenditure as well as preventing any of my players developing concerns. My next article will be about the latter because I've now completed a full season since the changes that we made to the player concerns feature and it'll tie in nicely with a previous article titled "Squad Management in Soccer Manager Worlds".
It's also been a full season since the changes we made to prize money, how attendances and stadium building works and player wages. At the start of the season my stadium capacity increased to 31,284 and I've averaged 30,667 fans each home game. This was the eighth highest attendance in the Spanish First Division and due to my success it could once again be increased as we move into a new season.
Due to being successful on the pitch I've also won 54.3M in prize money over the course of the season. This has resulted in my Castilla making a profit over 19.7M if you exclude my transfer activity. So as a small club and one that is successful I'm benefiting from the changes that we made earlier in the year. It also means that I can successfully maintain a strong first team of 21 players with an average rating of 92.
If I include my transfer activity then I have made a profit of 89.7M over the course of the season. Anyone can make a profit in the transfer market and I wrote an article titled "Advice on How to Be Successful in the Transfer Market" earlier in the year. If you've not yet read that article then I recommend it as bed time reading.
So season 22 has been a sucess on and off the pitch and I'm already looking ahead to next season. I'm already looking to make changes to my Castilla as I need to heed my own advice within "Why do Great Teams Come to an End of Soccer Manager?".
About the author – Steven Gore
Steven is one of the co-founders of Soccer Manager and has been playing SM Worlds since August 2005. He can be found in Gold Championship 7 (Game World ID 3065) managing Castilla if you'd like to join him.