Eden Hazard – A Ukrainian Replacement for Chelsea's Playmaker?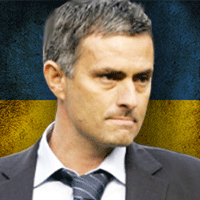 Posted on 27th October 2015
On October 22 the German sports portal transfermarkt.de reported that Eden Hazard could be on his way from Chelsea FC to Real Madrid next summer. The French paper L'Equipe meanwhile reported that Hazard has told several teammates that he no longer feels comfortable in London, and that he doesn't feel that his development would benefit from staying in the Premier League.
Hazard's current market value is €70 million, and a potential transfer could lead to the sort of blockbuster deal that has become so commonplace when Real Madrid are involved.
Hence, while a Hazard transfer would certainly satisfy the cravings of Real Madrid fans—who have become accustomed to their team signing the biggest names in world football—Chelsea will have to find a replacement for what would be a huge lose in their creativity department.
Last week, Chelsea coach Jose Mourinho was invited by Shakhtar Donetsk's CEO Sergei Palkin to visit Ukraine's qualification match against Spain. This led to speculations that Mourinho was scouting the match for potential winter transfer signings. The Ukrainian football news twitter account @FutbolUkraine suggested that Mourinho could be taking a look at signing Yaroslav Rakitskiy as Mourinho had failed to sign John Stones from Everton in the summer, and John Terry is increasingly showing signs of slowing down.
Another possibility is that Mourinho was scouting a possible replacement for Hazard. The recent rumours of Hazard's imminent departure make it probable that Mourinho was looking at offensive players rather than defenders, especially given the fact that Chelsea will make another attempt at Stones before looking for alternatives.
The fact that Shakhtar Donetsk hosted Mourinho suggests that Hazard's replacement could be found at the club. One player who comes to mind is Shakhtar's Brazilian attacking midfielder Alex Teixeira, who is currently on pace to break the Ukrainian Premier League goal scoring record—currently held by Borussia Dortmund's Henrikh Mkhitaryan.
Teixeira, however, did not participate in the match that Mourinho attended. So, while Teixeira is certainly on Mourinho's radar, it can be expected that Chelsea's manager was scouting a player on the pitch, and that he used Chelsea owner Roman Abramovich's close connection to Shakhtar Donetsk owner Rinat Akhmetov to visit the match.
This means that Mourinho was most likely in the Ukrainian capital to scout either Sevilla's Yevhen Konoplyanka or Dynamo Kyiv's attacking winger Andriy Yarmolenko. Yarmolenko's contract was set to expire next summer—the winger was already prepared to leave his boyhood club last summer following a dispute with Dynamo's ownership over broken promises regarding a potential transfer in the 2015 summer break. Dynamo, however, remained firm, and Yarmolenko remained at the club and has since signed a new five-year contract.
But at the same time, Yarmolenko has also stated that he only signed the new contract to guarantee that Dynamo Kyiv would receive a decent compensation for him, and he is still determined to leave Ukraine next summer. Yarmolenko would be an intriguing possibility indeed for Chelsea, however, he is a very different player than Eden Hazard, and therefore might be more suited as an addition to the playmaker rather than as a replacement.
This shifts the focus to Yevhen Konoplyanka, who seems more creative than Yarmolenko—he relies more on his physical attributes. Konoplyanka made the step to a European top league last summer when he moved from Dnipro Dnipropetrovsk to the La Liga team Sevilla FC. Konoplyanka has made six appearances in La Liga so far—all of them from the bench—and with an average whoscored.com rating of only 6.43 he has yet to prove that he can make a lasting impact at Sevilla. His score in the Champions League, however, has been more impressive—here whoscored.com gave him an average score 7.04—which indicates that it will be only a matter of time before Konoplyanka moves up a step in the domestic competition as well.
One thing is certain: neither player alone would be enough to replace the likes of Eden Hazard, and consequently Mourinho could decide to sign several players to soften the impact that a Hazard departure would have on Chelsea. The trip to Kyiv suggests that Mourinho was there not only to scout both Konoplyanka and Yarmolenko, but also to speak to Shakhtar Donetsk about the possibility of signing Alex Teixeira. Given the links of Chelsea's ownership to the post-Soviet space and especially to Shakhtar Donetsk, such a scenario is very possible.
About the author – Manuel Veth
Manuel Veth is a freelance journalist and Editor in Chief @FutbolgradLive and writes about the economics and politics of Soviet and post-Soviet football. You can find his work at Futbolgrad.com.
twitter: @homosovieticus