Dennis Otto – FC Barcelona's Future Goalkeeping Titan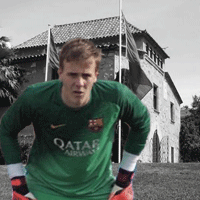 Posted on 07th December 2015
A young German goalkeeper playing for FC Barcelona is dominating the headlines in German football at the moment. But it is not Manuel Neuer's backup at the German national team, Marc-André ter Stegen, who is in the spotlight, but rather 17-year-old youth keeper, Dennis Otto.
The young keeper was born in Gehrden Germany, but his family moved to Mallorca where his father Kai Otto works in the tourism industry. Otto has, therefore, played most of his football on the island; until 2011 Otto played for CF Can Pastilla and CD San Francisco before joining RCD Mallorca in 2011.
The step to RCD Mallorca was the first significant milestone in the young keeper's career, as the club is the largest on the island. Competing for Mallorca's biggest club also meant that Otto was more visible to the talent scouts of some of Spain's most successful clubs. In addition, Otto was willing to go the extra mile by regularly attending the Fundación Marcet in Barcelona. Kai Otto tells Germany's Kicker Magazin that attending the camp was always his son's biggest Christmas wish. "The camp was expensive, but he would forego other Christmas presents in order that he be able to attend the camp."
His decision, to sacrifice computer games and lebkuchen in order to hone his goalkeeping skills in one of Europe's most lucrative training camps, paid off when in 2012 Barcelona scouts noticed his talent during a Mallorca youth game.
In 2013, the then 15-year-old, Otto was invited to join FC Barcelona's youth academy La Masia. At Barcelona, he quickly established himself as one of the most promising youth players of the club. In January, he was promoted early to the U-19 and, at just 16, was the youngest player in the squad. Otto's coach at FC Barcelona Juvenil A, the former Barcelona player, Gabri, has since stated, "Dennis is our top player, and he will have a great future." But Gabri also warns that Otto has to be developed "step by step."
Otto's biggest step to date, came in mid-November when Barcelona's manager, Luis Enrique, called up the keeper to take part in Barcelona's first team training. Unlike his participation at Marcet, however, the call up to the first squad was not an early Christmas gift; it was recognition of the goalkeeper's performances in the youth squad.
Indeed, the club seems to be extremely excited about the young German's future as Otto's par
ticipation in the first squad's training was even published on the club's homepage. This was an extraordinary action for a club that usually shields its best prospects from the public in fear that other clubs will try to pluck the brightest talents away from Barcelona's youth academy. Some even argue that this is one of the main reasons why Barcelona has so far refused to field Otto in the UEFA Youth League—UEFA's junior Champions League.
In fact, Germany's Die Welt newspaper reported that Otto had already received an offer from Atlético Madrid in 2014. But Barça fans need not worry; Otto told a Mallorca based newspaper, "I have been a Barcelona fan my entire life." Furthermore, Otto himself has pointed out that there are other reasons why Barcelona has not fielded him in the Youth League yet. Speaking to Kicker Magazin Otto points out, "the club has four keepers in my level, and the coaches rotate quite a bit."
This season Otto has been the number 1 keeper in most of the important league matches of Barcelona's Juvenile A, including the derby against Espanyol Barcelona, and the junior clasico against Real Madrid, and he is also expected to start for Barcelona in next week's Youth League match against Bayer 04 Leverkusen in Germany.
Whether Otto plays in Germany next week or not will not effect his chances with those in charge of Germany's junior national teams. The keeper is already on the radar of the junior national team scouts, and has been invited to the U16. Despite the fact that Otto has strong Spanish footballing roots, the 1,96 meter tall keeper lists the German keepers Oliver Kahn, Manuel Neuer, and Marc-André ter Stegen as his idols. It is, consequently, expected in Germany that Otto will have a bright future with Germany's national team if he continues on his current development trajectory.
The next step for Otto will be to break into Barcelona's first team squad, and to gain valuable playing time. Barcelona may even consider loaning Otto out in order that he gain the experience needed to play full fledged professional football. Several Bundesliga, and second Bundesliga clubs have already voiced their interest. Barcelona's officials, however, believe that they have an outstanding talent, who could one day be the number one at Barcelona—which would mean that Otto's current idol ter Stegen could soon become his closest rival.
About the author – Manuel Veth
Manuel Veth is a freelance journalist and Editor in Chief @FutbolgradLive and writes about the economics and politics of Soviet and post-Soviet football. You can find his work at Futbolgrad.com.
twitter: @homosovieticus