Is Chelsea Vice-Captain Branislav Ivanovic Becoming the Latest Victim of the Club's Ruthless Transfer Policy?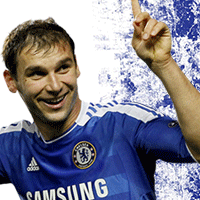 Posted on 15th November 2015
The 31-year-old Serbia captain is entering the final six months of his contract, and with the form he is currently in, the new offer is unlikely to follow.
Contrasting opinions exist over the Chelsea's distinctive transfer policy.
The Blues have opted not to discuss new contracts with players over 30 years of age, at least until February of the final year in their deals. What is more, the most experienced players in the squad can mainly hope for nothing more than one-year offer with an option for a further one if additional requirements have been met.
Branislav Ivanovic has been living in London and playing for Blues since 2008, and being a proper family man Bane, as he is called in Serbia, is not the kind of a person who is keen on changing his surroundings that often. Hence, all the Inter Milan rumours that have been circulating recently should be taken with a grain of salt.
The Serbian defender has become an established first-team member, gave his best for Chelsea through thick and thin, proving his worth and maintaining his place under seven different managers.
It took him some adapting to do under Avram Grant, since he arrived with a lack of fitness due to the fact that the Russian Premier League season ended a couple of months before his signing. However, once he got his feet back on the ground, Ivanovic was not to be removed from the starting berth.
Physically strong and dominant, the Chelsea vice-captain is characterized by his great areal ability. In addition, Ivanovic can be very useful as an extra presence for defending and attacking set pieces. Even though his natural position is centre back, Branislav Ivanovic has been mostly deployed as the right back, but his quick pace has made him a real threat in the attack as well.
During Chelsea's triumphant run last season, Branislav Ivanovic had been one of the most prominent and outstanding performers throughout the campaign. Jose Mourinho praised his spirit on numerous occasions, publicly calling for the Chelsea management to wrap up the new contract for the Serbian defender.
His stats were impressive.
With the total of 38 league appearances and 4 goals on his tally in the entire season 2014/15, Ivanovic had created total of 36 chances for his teammates, had an average pass accuracy of 81%. Ivanovic won 56% of his duels and even had the 60% success rate with his tackles.
If we are to break down his numbers even further, Ivanovic's stats for the first 12 games of the last season, the same number of games that have been played so far in the new campaign, are even more imposing.
Successful tackle rate of 69%, 62% of duels won and an average pass accuracy of 82% speak volumes of Ivanovic's influence.
He bled for the team, literally in some occasions, and was publicly applauded for his relentless fighting spirit. And then, everything changed overnight, as Branislav Ivanovic became a shadow of his former self.
His numbers suffered a major dip and today they illustrate the size of his demise.
With 12 games gone, and eight of those which Branislav played before his injury, he had disappointing 38% successful tackles, 0% shot accuracy and 48% of duels won.
What numbers cannot show is that Chelsea vice-captain looks lost on the field. Without the appropriate support from the rest of the team and the fear factor gone, rivals are not afraid to take him on any more and, what is worse, he is unable to stop them.
Lack of pace, lack of speed and poor positioning have made him a laughing stock this season.
Far from steady and reliable, the 31-year-old defender has been dealt with a dramatic turn in form and was even forced to face the wrath of many who blamed him for the club's poor results this season. Fans called for Jose Mourinho to drop Ivanovic and their wishes were granted when the Serbian captain picked up a hamstring injury while on international duty.
Ivanovic however did not turn out to be the main culprit for Chelsea's disastrous form this term as it was witnessed in his absence. So, did Ivanovic deserve the heavy barrage of criticism?
Modern-day football has lost its charm in a certain way. Current financial tides have raised the bar drastically, you are expected to give all you've got, to give it right now and to keep giving it all the time. Chelsea's ruthless transfer policy is there to prove it.
Failure is not an option, rough patches never forgiven – Branislav Ivanovic has become a fans' scapegoat.
A quick line from the personal perspective I hope will give a different perspective to the story. The author of this article, yours truly, had the chance and honour of meeting Branislav Ivanovic on one occasion. A quick chat and a couple of minutes spent with the Serbia captain made me realize that he was the player of a different kind.
Not your regular professional football player most of the time unaware of the world surrounding him, Bane is a level-headed, emotional guy.
And the heavy criticism did play its part on his poor form this season. However, the above presented numbers do not reveal the real truth behind Ivanovic's game – effort. That is one thing not a single Chelsea fan can use against him, as effort and dedication to the team's cause are Ivanovic's main traits, the strengths that have made him the player he is today.
Or was until recently.
In any case, his time has not passed. That's one thing I am sure of.
About the author – Miloš Markovic
Sports journalist from Serbia, Editor in Cheif at Sportske.net and contributor to FutbolgradLive. Worked with Inforstrada and FIFA covering Serbia's international games during the 2014 World Cup qualifiers.
twitter: @milosemarkovicu