Borussia Dortmund Resurgent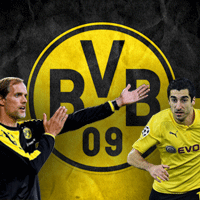 Posted on 17th September 2015
After four games with four victories and twelve points, Borussia Dortmund are on top of the Bundesliga table—on even points with the current champion Bayern Munich. Dortmund, under new coach Thomas Tuchel, now look to be the closest competitor to Bayern Munich, which is aiming to win an unprecedented fourth Bundesliga title in a row.
When speaking to the German magazine Kicker after Dortmund's 4-2 victory against Hannover 96, Borussia captain Mats Hummel pointed out that the gap to Bayern has become "a lot, lot, smaller. Now the top is once again tight." The reasons for Dortmund's resurgence are manifold. Players like the Armenian attacking midfielder Henrikh Mkhitaryan, the Japanese playmaker Shinji Kagawa, and the German defender Matthias Ginter have experienced a genuine renaissance under Thomas Tuchel. Kagawa returned from Manchester United last season, but took a full season to develop the necessary fitness to readapt to the high power football of the Bundesliga.
Mkhitaryan was brought in from Shakhtar Donetsk as a replacement for Mario Götze in 2013, and although the Armenian provided glimpses of his potential in the last two seasons, he failed to truly replace Götze. This is especially manifested by several statistics: Last season his pass completion rate fell to 73.5%, which was far below what is expected of a player of his calibre. Götze, for example, playing in his last season at Dortmund in 2013-14, had a pass completion rate of 83.4%. But perhaps even worse than his passing was Mkhitaryan's inability to score goals last season at Dortmund—he only managed 3 goals in 28 appearances, a far cry from the 25 goals he scored two years ago for Shakhtar Donetsk.
Then in March, Germany's Die Welt newspaper added Mkhitaryan to a list of players who exemplified Dortmund's poor transfer policy, and stated "at no point has the player justified the high transfer sum that the club paid for him in June 2013."
Mkhitaryan's poor form was accompanied by rumours that he was unhappy at the club. One source close to the player told me that Mkhitaryan was displeased that Borussia coach Jürgen Klopp had moved him away from the centre midfield position to the wings were he felt that he was not as well integrated in the game. The same source also suggested that Mkhitaryan has had a hard time being accepted in the Borussia Dortmund dressing room, and that at times he felt that players intentionally ignored him on the pitch. This story was further supported by an interview that Mkhitaryan's agent Mino Raiola gave in February in which he said: "Henrikh wants to leave Dortmund at the end of the season" and added that he was dissatisfied with his life in Germany.
All of this, however, seems to have been forgotten, as, under new coach Tuchel, Mkhitaryan's career seems to be back on track: In the first four Bundesliga games this season, Mkhitaryan scored three goals in four Bundesliga games, including a wonderful goal against Hannover this weekend, and also managed to score five goals in Dortmund's four Europa League qualifying matches. Furthermore, Mkhitaryan's pass completion rate has also improved to 79.9%, despite the fact that Tuchel has used him mostly as a left-winger, or as a left forward in a 4-3-3 formation.
What is most striking about Mkhitaryan's return to form is the fact that Tuchel did not move him back to his favourite position in centre midfield, and that, in his new position, Mkhitaryan has been able to integrate himself well to Borussia's new playing style.
Another player who has regained his form under Tuchel is the 21 year old defender Matthias Ginter. Ginter was part of Germany's squad that won the World Cup last summer, but after his transfer from SC Freiburg to Dortmund last summer, failed to find his place in Dortmund's squad under Jürgen Klopp. There were rumours that Ginter could leave Dortmund this summer and move to Borussia Mönchengladbach. Ginter, like Mkhitaryan, remained in Dortmund, however, and Tuchel has since redeveloped the player as a right defender, where Ginter is expected to play much more offensively. Ginter has reacted marvellously to his conversion to offensive right defender and has said "I never played this far forward my entire career." For Ginter, his transformation to right defender could also lead to a return to the national team, as Germany is notoriously short staffed on right defenders.
The man primarily responsible for Dortmund's resurgence is Thomas Tuchel; since he inheriting Dortmund from Jürgen Klopp, he has only made small adjustments to the squad but has re-invented the play of several key players. Dortmund now looks poised to once again challenge Bayern for the league title.
About the author – Manuel Veth
Manuel Veth is a freelance journalist and Editor in Chief @FutbolgradLive and writes about the economics and politics of Soviet and post-Soviet football. You can find his work at Futbolgrad.com.
twitter: @homosovieticus