Beneficial for Bolasie to stay put at Palace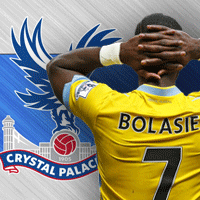 Posted on 25th September 2015
The nature of social media and 24-hour rolling sports news channels makes it hard to distinguish between genuine and fabricated transfer rumours.
One such story in this summer's window related to the Crystal Palace winger Yannick Bolasie, who was reportedly attracting interest from Tottenham Hotspur. It remains unclear whether or not Spurs were genuinely trailing the DR Congo international, but no bid was ever made and when Bolasie took to the field at White Hart Lane on Sunday afternoon, he did so wearing the red-and-blue stripes of Palace.
Bolasie has massively exceeded expectations since the Eagles were promoted to the Premier League in 2013. The 26-year-old – who was born in Lyon, raised in London and now represents the country of his parents' birth – has had an interesting career so far: after spending a year with Rushden and Diamonds at youth level, Bolasie moved to Malta to play for Floriana for a season, before being signed by Plymouth Argyle and, in 2011, moving to Bristol City.
Bolasie was one of four players – another, centre-back Damien Delaney, has also excelled against the odds in the top flight – signed by Palace in the final week of the summer window in 2012. He was excellent for much of the campaign as the south Londoners qualified for and subsequently won the play-offs under Ian Holloway, his speed and trickery leaving numerous Championship full-backs with twisted blood.
Many felt that Bolasie was simply too raw and erratic to succeed in the Premier League, but he has emphatically proven such doubters wrong with his displays in the two years subsequently. Nevertheless, it is probably a positive thing for Bolasie that his proposed move to Tottenham did not materialise.
For all his undoubted qualities, the winger lacks the consistency and end product to be a top-class Premier League player. At White Hart Lane, Bolasie would have been under increased pressure and scrutiny, and it is likely that his weaknesses would have been shown up and criticised to a greater extent: his return of seven goals and 10 assists in 68 Premier League appearances, for example, would have had to significantly improve had he joined Tottenham for upwards of £15 million.
Moreover, Bolasie's own game is perfectly suited to the tactics Palace employ under Alan Pardew. The former Newcastle boss has encouraged the Eagles to become more bold and daring under his stewardship, allowing his players to take more risks with the ball as they seek to outscore the opposition.
Bolasie, with his direct running and skilful wing play, is the embodiment of Palace's thrilling, counter-attacking style. Given that he is most effective with plenty of space in front of him, it is likely that he would not have been as good a fit at Tottenham, where Mauricio Pochettino's side regularly dominate possession and look to win back the ball as close to the opposition's goal as possible.
None of which is to dismiss Bolasie's qualities or underestimate the impact he is capable of making once more in 2015/16. There are, however, countless examples of players failing to replicate the success they enjoyed at one club upon moving to another, and it is likely that Bolasie's career will benefit from remaining at Palace, where he is virtually guaranteed a starting spot, suits the team's style of play and is adored by the club's fans.
Tottenham may never have been interested in the 26-year-old, and perhaps that was for the best for all parties concerned.
About the Author – Greg Lea
Freelance football writer. Work published by FourFourTwo, The Guardian, World Soccer, Goal, The National, Squawka, Eurosport, The Blizzard + others.
Twitter @GregLeaFootball