5 UNDERSTATED TRANSFERS IN LA LIGA THIS SUMMER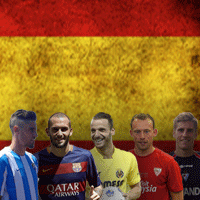 Posted on 26th August 2015
As the glitz and glamour of the Barclays Premier League transfer window edges into it's final week, excitement is at fever pitch as cash-laden clubs scour Europe for the next big money deal. Whilst Jim White is feverishly running around the Sky Sports News studio from one touch screen to another, the mood over in Spain is all the more calm. At the same time the English clubs have been jetting off on tours to the Middle East and Australia, Spanish clubs have been tying up deals to replace those who have set off for pastures new. One aspect of the game that La Liga can gain plaudits for is the extraordinary knack of finding players who can sell on for huge profit, or revitalising careers by using them in a unique way that their previous club hadn't thought of. These next five signings should demonstrate those two points and more over the coming season.
Aleix Vidal: Sevilla FC – FC Barcelona
Vidal's move from Sevilla to Barcelona is certainly a sense of deja-vu –
the narrative of Barcelona buying converted full-backs from Sevilla has been written twice before with Adriano and more famously Dani Alves. Vidal's move has been overshadowed by the fact that the current Champions bought him under a transfer ban, which means that he cannot feature in a competitive match until January. Due to this many have failed to spot what Vidal can actually bring to the table. An absolute workhorse down the right hand side, he can often be spotted blistering past the winger on an overlap where his magnificent crossing ability can be put to use. His new coach Luis Enrique is a fitness fanatic, and Vidal's massive stamina will fit with Barcelona's high-pressure ethos. Vidal is a humble player, whose rise from Almeria to Barcelona has been nothing short of magnificent and his flexibility gives Enrique the opportunity to mould him into the player he wants. Surely bought to cover the right-back slot when Alves hands the baton over, and is more than capable of doing so as his Spain call up over the summer suggests.
Roberto Soldado: Tottenham Hotspur – Villarreal CF
A familiar name for La Liga watchers returns as the ex-Valencia top-scorer joins provincial rivals Villarreal on a long term deal. Roberto Soldado certainly has the pedigree needed to send El Submarino to the next level after a season which secured European football at El Madrigal once again. After two disappointing years with Tottenham Hotspur, Soldado will be keen to exercise the memories of his time in London in which he became nothing more than the butt of jokes as he failed to settle. Primarily used as a lone-striker, his return to Spain will see him link up with Leo Baptistao or fellow new boy Cedric Bukambu as part of a two. Villarreal scored 48 goals last year, 23 behind Sevilla who finished 16 points clear of them. They will hope that the return of Soldado will go someway to closing that gap, and his impressive debut goal in the 1-1 draw with Real Betis suggests that Soldado is ready to fire on all cylinders.
Michael Krohn-Dehli: Celta de Vigo to Sevilla FC
The Danish central midfielder arrives on a free transfer from Celta Vigo and may prove to be a superb acquisition over the course of the season. Although he was the key creative hub for Celta last season, his role within the team was often overshadowed by wingers Nolito and Orellana. However, his contributions were invaluable as the Galician's recorded an 8th place finish – their highest since their return to the top flight in 2011 – as he provided 5 assists and created a total of 69 goal scoring opportunities for the team. At 32 years old and behind some serious quality at the Ramon Sanchez Pizjuan, Krohn-Dehli may find it hard to make his mark full-time, but will make an impact over the course of the season as his attacking guile allows him to find space in opposition defences. His vision is second to none, and will provide a key option should Unai Emery need more attacking presence next to Ever Banega.
Samu Castillejo: Malaga CF – Villarreal CF
One of two Samu's who left Malaga to join the yellow submarine of Villarreal this summer, which also demonstrates how well the Valencian outfit have bought after the departures of Giovani Dos Santos and Ike Uche. Castillejo burst onto the scene 18 months ago in a Malaga side that was full to the brim of home-grown talent. Since then, his development has been rapid and he has gained plaudits equally as quickly. At 20 years old, Samu is one of the most exciting talents at under-21 level, playing primarily as a winger he possesses fantastic pace with footwork to match. His ability to create chances from wide positions will certainly be an upgrade on an area that was lacking last year. Whilst work is needed on his final ball and decision making, this acquisition is certainly a strong one which will certainly have economical benefits in the future as big clubs across Europe already start to hover.
Raul Albentosa: Derby County – Malaga CF
The lanky central defender will be best remembered for his outstanding performances for the smallest club in La Liga last season. The former Eibar central defender joins Malaga on loan from Derby County for the season with the view of reviving his career after a slight lull in the British Midlands. Albentosa is certainly an upgrade on the outgoing Sergio Sanchez, and Malaga will be pleased to have secured his signature. The primary stages of his La Liga career were certainly positive with a series of assured performances for a club that many wrote off before they played their first game. It was clear to see that after the loss of Albentosa, Eibar struggled defensively – his return to La Liga will certainly add to an exciting Malaga squad.
About the Author – Ben Jarman
Freelance football writer with a penchant for Spanish and European football. Work published by Fulham FC, Italian FA and the Evening Standard.