2015/16 European Young Team of the Season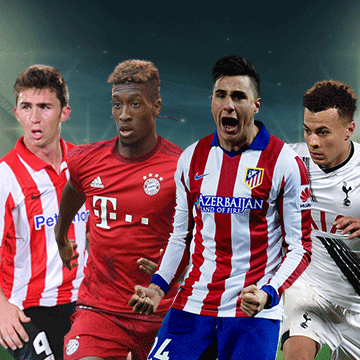 Posted on 21st April 2016
It's come to that stage again where one must compile a team that is labelled the European Young Team of the Seaon. For this season's, only players under, and including, the age of 21 can be submitted. So, just for the record: Paulo Dybala is 22-years-old, please retract that comment before pressing send. Thank you kindly.
Goalkeeper: Gianluigi Donnarumma (AC Milan)
The 17-year-old Italian has played 25 times for AC Milan this season, which is absurd when you think of how much pressure he has on his shoulders guarding the net. At 17, he's handled it incredibly well and has been known to have cat-like reflexes. Donnarumma has such a long career ahead of him, but the fact he's breaking into the first-team now can only mean good things for this young goalkeeper.
Right-Back: Héctor Bellerín (Arsenal)
Bellerín has been a special player this season for Arsenal and has consistently stood out; with his lightening quick speed, the right-back has been able to launch counter-attacks efficiently that result in goals. None better to highlight this than the sensational attack against Bayern Munich when Bellerín lost the ball, then out-paced the attacker to retrieve it, run 50 yards down the flank and find a beautiful ball to Mesut Özil to finish it off. Barcelona will be keeping a keen eye on this one.
Centre-Back: Aymeric Laporte (Athletic)
In the summer of last year, Laporte was on the tip of everyone's tongues as he was permanently talked about a transfer away from Athletic. Manchester United, Manchester City and Chelsea were, reportedly, the interested parties only to be cut short by his €50m buyout clause. That hasn't swayed the French defender at all, with playing 40 times this season and becoming a mainstay in Athletic's defence. Laporte's 21-years-old now and is perhaps thinking it's time to kick on in his career – there will be many suitors lined up for him if this is the case.
Centre-Back: José Giménez (Atlético Madrid)
The Uruguayan has played 32 times for Atlético this season in what could be a very successful one. Playing in the Champions League and Copa del Rey, Giménez will be enjoying himself as he's playing in the top competitions this campaign. What's been a delight to watch is his pure concentration of tacking. His intelligence of knowing when to go to ground and when to stand an attacker up is sublime and not many learn that craft at such a young age. It's easy to forget that the Atlético defender is only 21-years-old.
Left-Back: José Gayá (Valencia)
Under Gary Neville's leadership it hasn't exactly been plain sailing; however, Gayá has been a bright spark in a pretty dull season. The Spanish international has looked ever so comfortable at left-back, and even more so when he's in the oppositions half. Gayá's crossing has been sublime, whether that's into Alcácer or Rodrigo, the left-back seems to always hit the spot.
Centre-Midfielder: Saúl Ñíguez (Atlético Madrid)
Saúl is moulding into the perfect midfielder to sit in-front of your defence. In the way that Eric Dier and Sergio Busquets do it so well for Tottenham and Barcelona,
Saúl
is now starting to emulate their successes for Atlético. That's not to say that he can't be used elsewhere, though, and Diego Simeone has certainly made sure oft that. The Spanish utility player has been used on the right-hand side 8 times, 4 on the left and even once in the centre of defence! In years to come, Saúl should settle down and become a very combative box-to-box midfielder.
Centre-Midfielder: Renato Sanches (Benfica)
Last summer a certain José Mourinho tried, and failed, to sign the Portuguese midfielder for Chelsea. Now, Sanches has reportedly signed a deal with Manchester United for this forthcoming transfer window. He's been heavily touted as a future world class midfielder, with glimpses of Patrick Vieira and Edgar Davids, Sanches is a highly dominant player in the middle of the park that just oozes pure class and control. He's only 18-years-old so still has much to learn but what a terrific season he's had with Benfica; they've looked a totally different outfit with Sanches coming in in October.
Left-Midfielder: Anthony Martial (Manchester United)
The Golden Boy that not many knew about before he came to Manchester United in September. For those that did, Martial was playing exceedingly well for Monaco which lured the Red Devils in for his signature. However, this season the Frenchman's really kicked on and even nailed down a starting position for France. Domestically, Martial has practically carried Man Utd to where they are now – 5th and a FA Cup Semi Final – and has been their best outfield played by some way. Having just turned 20, Martial's got a very, very bright future ahead of him.
Attacking-Midfielder: Dele Alli (Tottenham Hotspur)
I'm not sure there's much I can say that will do this boy justice. To put his rise to fame into perspective – Arsenal fans look away now! – since Jack Wilshere's injury, Alli's transferred to Tottenham Hotspur from MK Dons, cemented a starting position in the Premier League, had a call-up from England in which he scored on his debut, and overtaken Wilshere's goals in the league. Alli's found the net 10 times already this season and assisted 11 times. That's unbelievable stats from a midfielder who's only played in this league for 9 months.
Right-Midfielder: Kingsley Coman (Bayern Munich)
Currently on-loan from Italian giants Juventus, Coman has impressed on his spell with Bayern Munich. He played a considerable part in knocking out his parent club in the Champions League last month and has contributed 6 goals and 10 assists while in Germany. There are talks of Coman settling in Bayern and wanting to stay there permanently, but we'll see more of that in the summer. The attacker's been playing so well that Deschamps, the France coach, has consistently called him up to the first-team. Could he be a late addition the France 2016 Euro squad?
Centre-Forward: Moussa Dembélé (Fulham)
Another Frenchman! France's depth is quite ridiculous. Dembélé, playing for Fulham in the Championship, has played 43 times for them this season which is a behemoth task for such a young player. The centre forward has scored 16 goals this season in all competitions and assisted 6 times. Dembélé's most definitely one for the future with his quick feet and killer finishing; he has been known to 'give the eyes' to goalkeepers.
About the author – Liam Canning
Liam is a free-lance journalist who has featured on The Mirror, Telegraph, London Evening Standard, Independent, Squawka and FoutFourTwo.
twitter: @OffsideLiam