How Important is the Identity of a Football Club?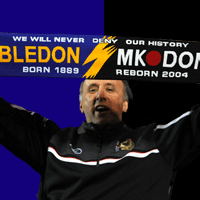 Posted on 04th December 2015
How important is the identity of a football club? It's a tough question to quantify and even tougher to answer when sentiment is concerned. With passions raised in south west London and Milton Keynes as AFC Wimbledon and MK Dons squared off in the Johnstone's Paint Trophy last season, we examine how important the identity of a football club is commercially in terms of the business model and, more importantly, for the fans.
The first football match I ever went to was a Wimbledon game at Plough Lane many years ago. They were my local club and even when they moved to Selhurst Park I'd watch the original Dons in the halcyon days of Efan Ekoku, Hans Segers and Dean Holdsworth. What always impressed outsiders with Wimbledon was their identity: the Crazy Gang. Unperturbed by the incessant chants of '"long ball", the Dons stuck to their footballing principles of direct, aggressive football under the stewardship of Joe Kinnear. These were the days when Kinnear was an astute, switched-on manager – a far cry from his demise in recent years.
It may not have been the prettiest football, but it never needed to be; Wimbledon had their identity, it worked and they loved it. Moreover, their local legion of fans embraced the club for what it was: small, in touch with the local area, and fearless. Their identity was set and every fan embraced what the club stood for as it forged its identity over a significant period of time.
When Wimbledon became MK Dons in 2004 the old identity was perhaps lost forever. MK Dons have never attempted to recreate the previous identity as history and geography play such a crucial role in the formation of a club's soul. The Wombles and Wimbledon Common were impossible to recreate in Milton Keynes and the MK Dons were perhaps left with an empty vessel in terms of their identity.
A trip to the Stadium MK is a telling story; quiet, devoid of age-old chants, and at times passionless. This is certainly not a slight on the local supporters that will embrace the new clubs identity when it's forged over a significant period of time. Perhaps one day MK Dons will have created their own identity that is synonymous with the Milton Keynes area as well as their unique style of play.
The question that leaves is, what have AFC Wimbledon been left with? Is it possible to recreate the identity of defunct club? AFC Wimbledon fans will tell you that the club has the heart and soul of the original Crazy Gang but in reality that is something that won't ever be recreated.
Firstly, the fan base at AFC is from a different era – younger, vibrant and looking for a different style of play to what Wimbledon offered in the 1990s. It's hard to imagine that today's crop would embrace the original style of play in this era of tiki taka football. Secondly, no matter how hard AFC try, they won't ever be the Crazy Gang. The players are different, the academy is different, those in charge are different; the soul of the club is not the same. The club itself has irrevocably changed.
However, one thing will fill the AFC fans with hope and positivity for the future – they created the soul of a football club once before, and they can most certainly do it again. It will take time but AFC Wimbledon can once again be an important institution in south west London. Furthermore, and crucially, south west London wants a Wimbledon competing at the highest level again.
Identity is everything to fan. It's what they associate much of their footballing philosophy with. But what about in terms of commerce: can a club's identity impact business opportunities? The key factor will of course be success on the pitch. Trophies will always attract the greatest number of followers off the pitch and consequently the highest bidders for advertising and sponsorship.
Lets take the example of Real Madrid, consistently the world's richest club and most impressive in terms of commercial performance. For ten years their success has been sporadic and, without a Champions League trophy between 2002 and 2014, one would assume their monetary power would be impacted.
The reality is that over time Real Madrid has become an institution, not a club. They have an identity that boasts success, power and talent. Perhaps this originates from the days of Franco and the Madrid political powerhouse, but the powerful identity remains. They attract a global following and commercial sales that remain intact in spite of baron eras on the pitch.
This is because the identity is historic and one that oozes success. As a result, sponsors will often queue up outside the Bernabeu to have their name printed on the shirt or around the stadium; they want their brand associated with the image of success, even if tangible success isn't forthcoming. In Real's case, their identity is everything to a sponsor and their continued financial clout.
Perhaps the same can be applied to Liverpool. Underachievement on the pitch has plagued the club for over two decades now, yet they retain impressive sponsorship deals globally due to their history and identity as a local, historic, family club. The examples of Real and Liverpool suggest history plays a key role in ensuring the identity of club sparks commercial interest.
Chelsea and Manchester City will of course counter this argument as short-term success is always going to be a sure-fire way to attract sponsors. These clubs also have strong historic identities among their fans, but the attraction for sponsors is built on their short-term success on the pitch, not over time. If the Chelsea and City star should wane, it's hard to imagine that sponsors will be queuing up so freely outside their doors. They weren't there before, after all.
Yet Real and Liverpool show that in spite of underachievement on the pitch, their clubs possess an identity of success that is synonymous with its fans – rightly or wrongly. Juventus are also a great example – relegation and the Calciopoli scandal has not blighted their attraction to a sponsor and they still have enough income to justify the highest transfer and wage spend in Serie A.
The identity of a football club is, in essence, the very heart of a club. While the commercial boom of a club is vital to its potential triumph on the pitch, the key issue for fans is the identity within the stands. Most supporters will agree that their club's identity is forged over a period of time, and they would be right.
That's why AFC Wimbledon is not yet the local Wimbledon of years gone by. They will, almost certainly, be that club one day, but identities are forged over many years of loyalty in the stands, ups and down on the pitch, and among the hordes of fans that give their heart and soul and bit by bit make up the identity of a football club. It takes time, but that identity will live far longer than the period it took to build.
Most importantly, for longevity of success at least, a good identity will bring commercial opportunities and result in the formation of a powerhouse that will exist even when underachievement is prevalent. The identity of a football club, at the top and the bottom, is absolutely everything, and often the greatest measure of success.
About the author – Omar Saleen
Based in London, Omar is the editor-in-chief at These Football Times. A professional coach by day having worked at clubs including Fulham, QPR and Red Bull New York, he also writes freelance for a number of outlets.
twitter: @omar_saleem