Soccer Manager Worlds Relaunch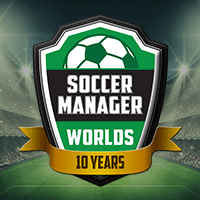 Posted on 02nd December 2015
We are happy to announce the relaunch of Soccer Manager Worlds to celebrate our 10th anniversary and it contains some exciting updates and we'll start with the biggest.
New Match Engine
A new Match Engine has been introduced to Soccer Manager Worlds.
So what does this mean?
It means that better results are obtained with modern formations and player ratings have an exponential value in a match, so the best footballers in the game will perform even better for your team.
Additional formations such as 4-2-3-1 narrow and 4-4-2 narrow diamond have been added along with some improvements to the effectiveness of certain existing formations.
Also, player position compatibility for certain formations is now more realistic, making match days more strategic. For example only DM(L/R) and M(L/R) can only play the wingback role perfectly within formations such as 3-5-2 and D(L/R) will not play as well in a 3 man defence.
We have removed some Player / Team Instructions / Styles. For example one option that we have removed is "Men Behind Ball" which is the same as "Mentality Defensive".
The new Match Engine includes more realistic match statistics such as possession, corners, shots and player match ratings.
We believe that the new match engine will enhance your matchday experience due to it being more in-depth and providing a greater test of your management skills.
New User Interface & App
We have added a slick new design for the desktop that gives the game a modern feel. The new user interface has been developed with the help of feedback from our community. This redesign has been  done in tandem with our new app so that the interface of both is the same and this will help when you switch from one platform to the other.
SMFA
We have made several revisions to the SMFA as we have introduced a new system to help prevent in-game cheating.
Revised Attendances & Stadium Building
Based on our communities feedback, we have made several changes to attendances and stadium building. Smaller clubs and those coming up through the divisions will now receive higher attendances and have their stadium capacity increased (to a far higher level) to reflect their league standing.
The maximum capacity of 24,000 is being lifted because we want attendances to be more dynamic and based on your success. This means your fan base will dictate any increases to your stadium which will be made by your Chairman at the start of a new season. It will not cost your club any money as the Chairman will pay for this.
So how will fan bases work? Well, each club has a set fan base when a Game World is created. This fan base could increase over a period of time dependent on your success. However, the fan base will never increase to more than the highest fan base within your league. Likewise, just as a fan base will increase, it can also decrease if your club is underachieving.
We believe that this will be a welcome change because it is one that you, our community, have been asking for.
Game World Economies
There are several improvements that will affect the economy of your Game World. We've been working on these areas for the past few months. Prior to that we've spent considerable time reading all of the feedback on the forum, twitter, Facebook and via email.
There's a lot of differing views on the subjects of squad sizes and player hogging and we've taken this into account when working on our changes. We also believe that the changes we're making will help to improve the SMFA and reduce cheating.
So what exactly are our changes?
The algorithm for calculating a player's value has been changed to include the player's potential rating and any concerns they may have, as well as what was taken into account before: rating, age and position.
Player's with concerns will see a substantial decrease in their value, the higher the level of concern the greater the decrease in value. This should help smaller clubs pick up better players for cheaper than their maximum value and the club they are leaving will receive a substantially lower fee when they hand in a transfer request.
Player values will be the same for all clubs when looking at the same player. Players are also worth the same when included in part exchange deals. There is no longer one chairman valuing a player differently from another.
Player wages are being drastically increased for better players, this should help stop player hogging and force people to sell top players they are not using.
Player concerns can no longer be bought off. There will remain 5 levels of concern and they will run 3 times a season, meaning a player would finally leave a club after 1.5 seasons, at a substantially reduced value.
Selling a player to an external club in the Game World now only has a 7 day transfer ban.
Finally you can no longer set players to Unavailable to Transfer or set a Minimum Fee because we want to encourage interaction between managers.
Feedback
We'd love to hear your feedback with regard to our relaunch so please feel free to tweet @SoccerManager or message us on Facebook.